The fervor of Ganesh is all set to grip India. Artisans can be seen gliding their skillful fingers over Ganesh idols. Every street in Mumbai is filled with splashes of color, ranging from garlands, trinkets and Ganesh idol accessories. Ganesh Chaturthi is a special attraction for people in Mumbai. Not only it is the pompous celebration of the much-revered elephant god Ganesh, it is also a unifying festival for all people in Mumbai. Tourists and residents flock different Ganesh Mandals in Mumbai to have a look at the Ganesh idol.
The specialty of Ganesh Mandals in Mumbai
Mumbai celebrates the spirit of India in every Ganesh Chaturthi. It transcends all the barriers of caste, creed and language. Everyone is colored in the color of devotion and enjoyment so much that Ganesh Chaturthi and Ganesh Mandals in Mumbai has always been the highlight of Mumbai.
The Ganesh Fever
Every Ganesh Mandal in Mumbai is special and unique. So no one is satisfied with a visit to a single Ganesh Mandal in Mumbai. Mandal hopping is the most important task for Mumbaikars during the 10 days long celebration of Ganesh Chaturthi. There is no lack of enthusiasm and energy in youngsters or older adults. People are ready to brace everything to have a glimpse of their favorite Ganesh Mandals in Mumbai. The crowd, rush and heat cannot deter the devotees from their destination.
Ganesh idols in Mumbai showcase the best skills of artisans who work for almost a year to present marvelous craftsmanship. Every idol is the pride of the artists as well as the committees which are associated and responsible for specific Ganesh Mandals in Mumbai. The atmosphere of Mandals and associated areas brim with the chants of hymns and rhythm of drums.
Welcoming Lord Ganesh
Every year, on the 4th day of Bhadrapada month of Hindu calendar, the majestic idol of Lord Ganesh is brought in the Mandal with an elaborate procession. The idol itself is decked with adornments and radiates divinity.
For the next eleven days, the lord is worshipped and celebrated in a pompous way. Flowers, sweets and Ganesh's favorite "Modak" are offered to the Lord first and then distributed to visitors as blessings of Lord. There are many famous Ganesh Mandals in Mumbai which have special value for visitors. From celebrities to commoners, everyone comes to seek blessings of the Lord. The festivities continue till eleven days, on the end of which idols of all Mandals are taken for dispersion or "Visarjan" into water bodies.
If you are planning to visit Mumbai during Ganesh festival or are new to this place,
here is a list of Ganesh Mandals in Mumbai to witness the grandeur and extravagance.
This is unarguably the grandest and most famous Ganesh Mandals in Mumbai. The epic size of the idol astonishes devotees.
Address: Putlabai Chawl, Lalbaug, Lal Baug, Parel, Mumbai, Maharashtra
Location: https://goo.gl/maps/pcbaYiLq6CA2
It is at a walkable distance from Lower Parel station, Currey Road and Cotton Green.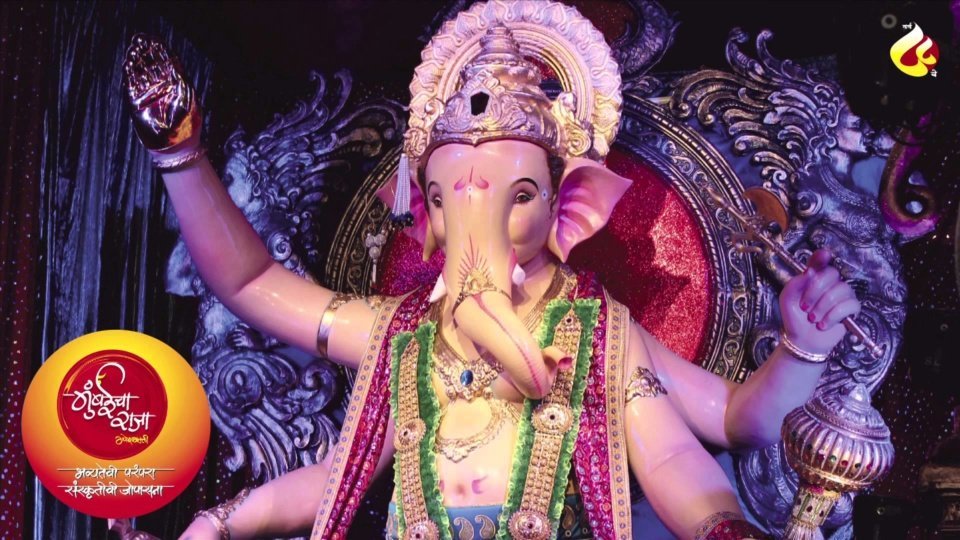 Located at a short distance from Lalbaugh, this Mandal is famous for its unique theme every year.
Address: 1, Ganesh Lane, Lal Baug, Parel, Mumbai, Maharashtra 400012
Location: https://goo.gl/maps/fg5GZcDJfWA2
The nearest railway stations are Lower Parel, Currey Road, Chinchpokli and Sewri.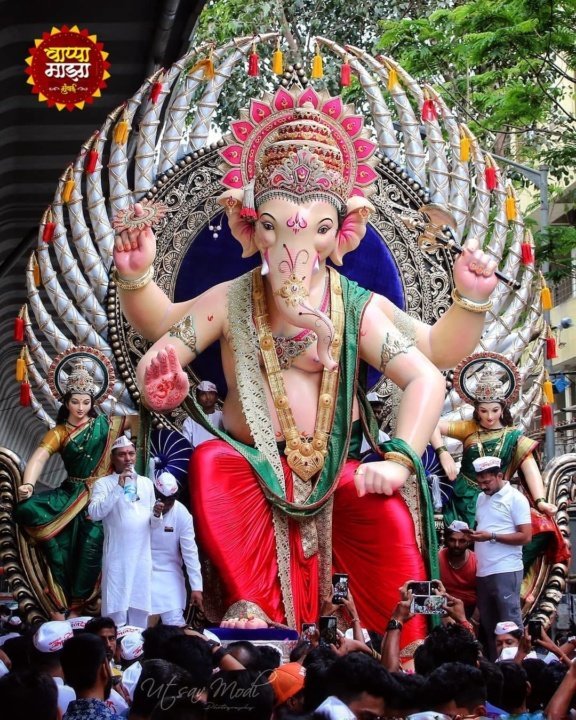 The idol of this Ganesh Mandals in Mumbai is considered to be one of the most spectacular in Mumbai. Every street adjacent to Khetwadi Ganraj hosts several smaller Ganpatis.
Address: Grant Road Khetwadi Back Road & 12th lane Sarvajanik Ganeshotsav Mandal  12th Khetwadi Lane,
17, Camy House, Shop No. 8, Girgaum, Mumbai – 400004
Location: https://goo.gl/maps/xNwr4R9CfjP2
It can be easily accessed from Grant Road.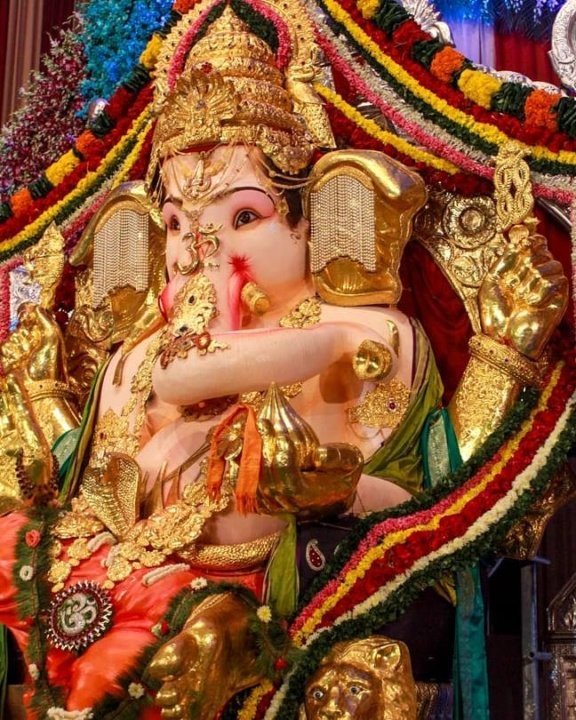 Adorned with pure gold ornaments, this idol is the richest in Mumbai. Live devotional music adds pure bliss to this Ganesh Mandal in Mumbai. It is a unique Mandal since it hosts Ganesh for only 5 days.
Address: Shree Guru Ganesh Prasad, Near Sion Fort, Bhookailash Nagar, Sion (E), Sion East, Sion, Mumbai, Maharashtra 400022
It can be reached from King's Circle via Harbor Line and Matunga Station via Central and Western Line.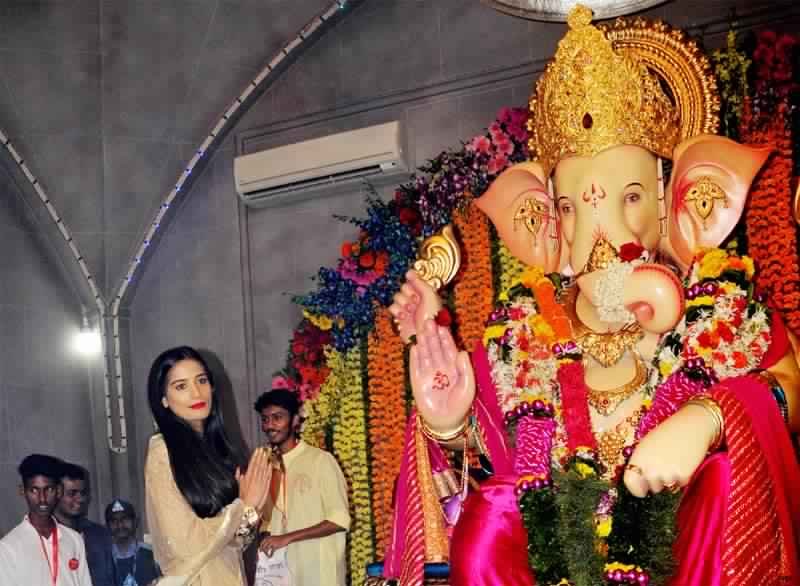 Established by Tobacco factory workers in 1966, this Mandal is located in suburban Mumbai. It has a humble looking Ganesh idol placed in a unique theme every year. The idol is immersed 5 days after Ananta Chaturdashi.
Address: D-67, 1312, Azad Nagar II, Veera Desai Road, Andheri (west), Mumbai, Maharashtra 400053
Location: https://goo.gl/maps/3VCk2woX96S2
Using Mumbai local, one can reach this Mandal from Andheri Station.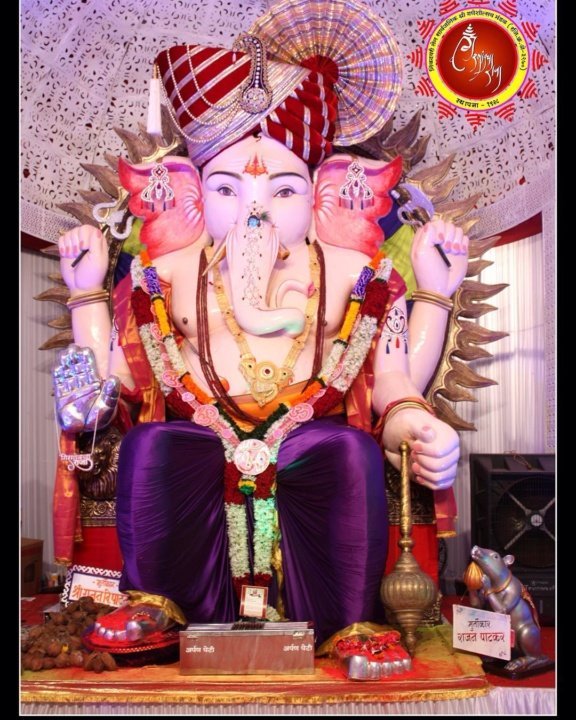 This iconic mandal has been housing majestic Ganesh idols since 1938 and the highlight of this Ganesh Mandal in Mumbai is the 25 ft. eco-friendly idol.
Address: Kotachi Wadi, Ambewadi, Girgaon, Mumbai, Maharashtra 400004
Location: https://goo.gl/maps/5FobSh5sD8q
This Mandal is very close to Charni Road railway station.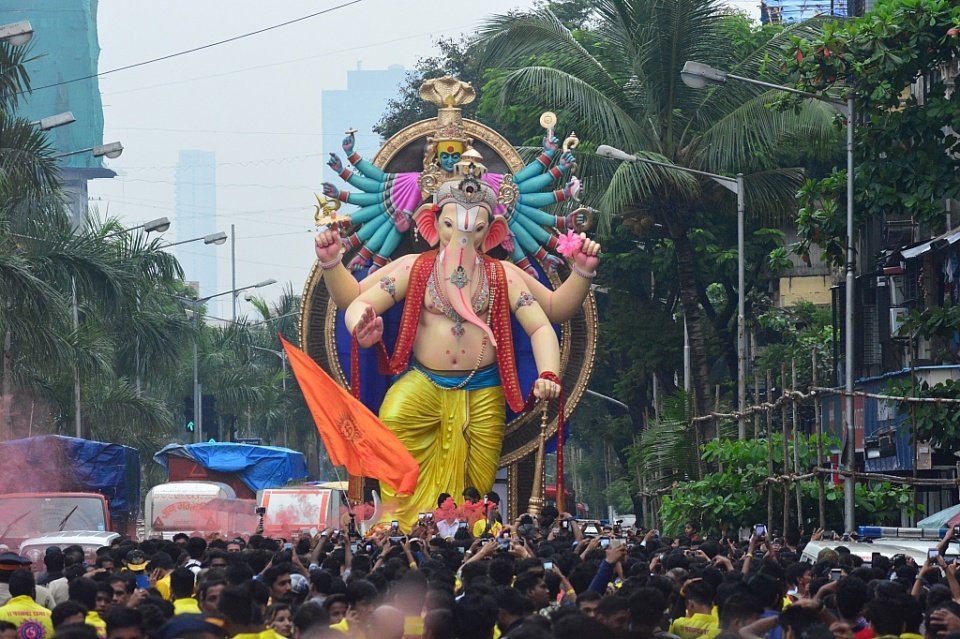 Established in 1947, this Ganesh Mandal enjoys a lot of popularity till date. The Ganesh idol is erected in a standing position like a king, unlike others.
Address: Narepark Abhyasika, Nare Park Walk, Bhivajirao Nare Udyan, Parel, Mumbai, Maharashtra 400012
Location: https://goo.gl/maps/vPB6RiAU8BR2
To reach Nare Park, one can go from Elphinstone or Lower Parel Station.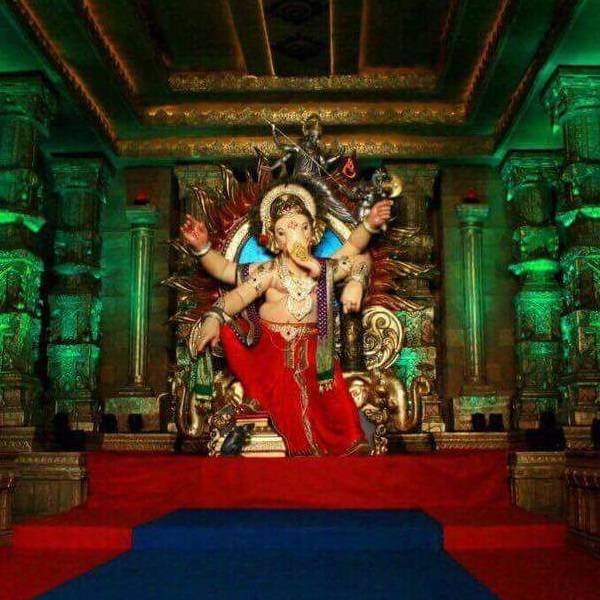 It is famous for the Sinhasaan and the various poses of the idol.
Address: Chinchpokli Cha Chintamani, Chinchpokli, Dattaram Lad Rd, Mumbai, Maharashtra 400012
Location: https://goo.gl/maps/B1QvTQycMpP2
To visit this Mandal one can travel from Central Line to Chinchpokli Station.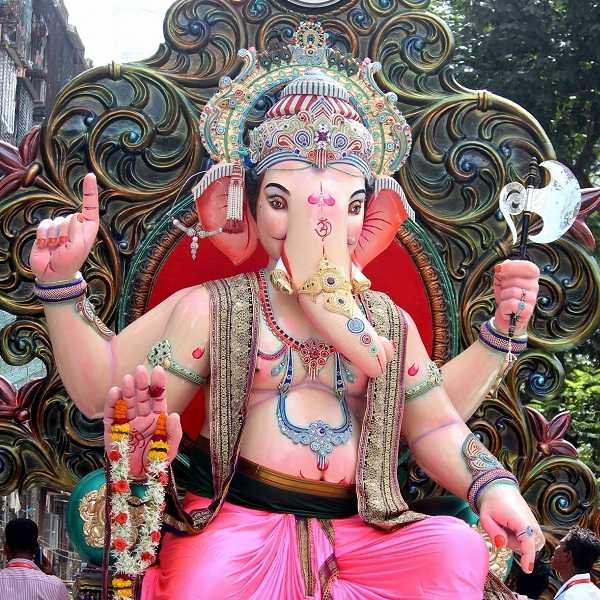 Dongri Cha Raja is another breathtaking Ganesh Mandal. It is famous for its varied themes.
Address: Ganesh Chowk, Dr.Maisheri Marg, Dongri, Mumbai, Maharashtra 400009
Location: https://goo.gl/maps/6fj9bZpDLaT2
It is 15 minutes away from Mumbai Central Station.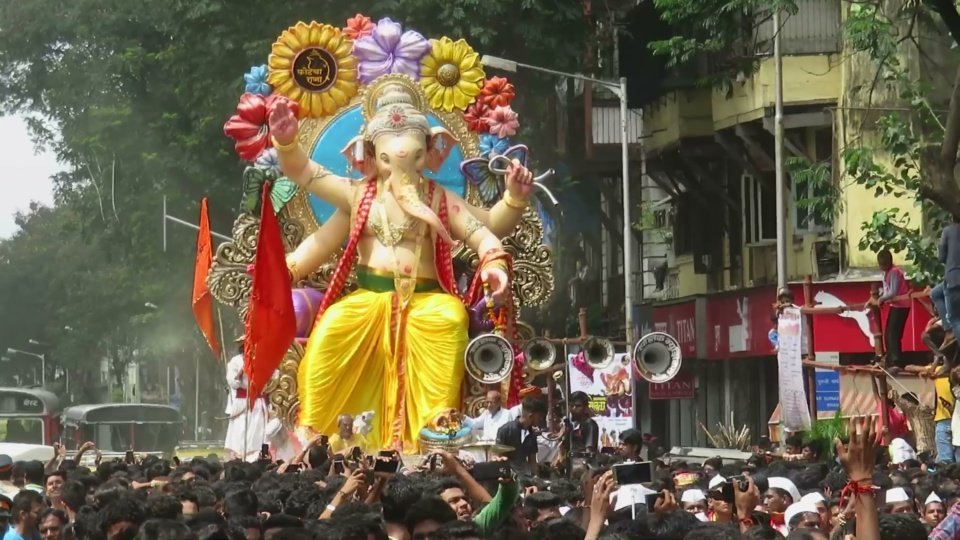 This is an impressive Ganesh Mandal in South Mumbai and has been celebrating this festival for 51 glorious years.
Address: Dwarkadas Ln, Borabazar Precinct, Ballard Estate, Fort, Mumbai, Maharashtra 400001
Location: https://goo.gl/maps/zur4dGkDfkE2
Enthusiasts can visit this Mandal by taking a train to CST station.
This is a low key, yet very traditional Ganesh Mandal which draws devotees from all over Mumbai.
Address: Lane between Atmaram Bhavan & Tanibai Nivas Station Road, Wadala (W) Mumbai – 400031.
It is located just opposite to Wadala Station. It can also be easily accessed from Harbour Line.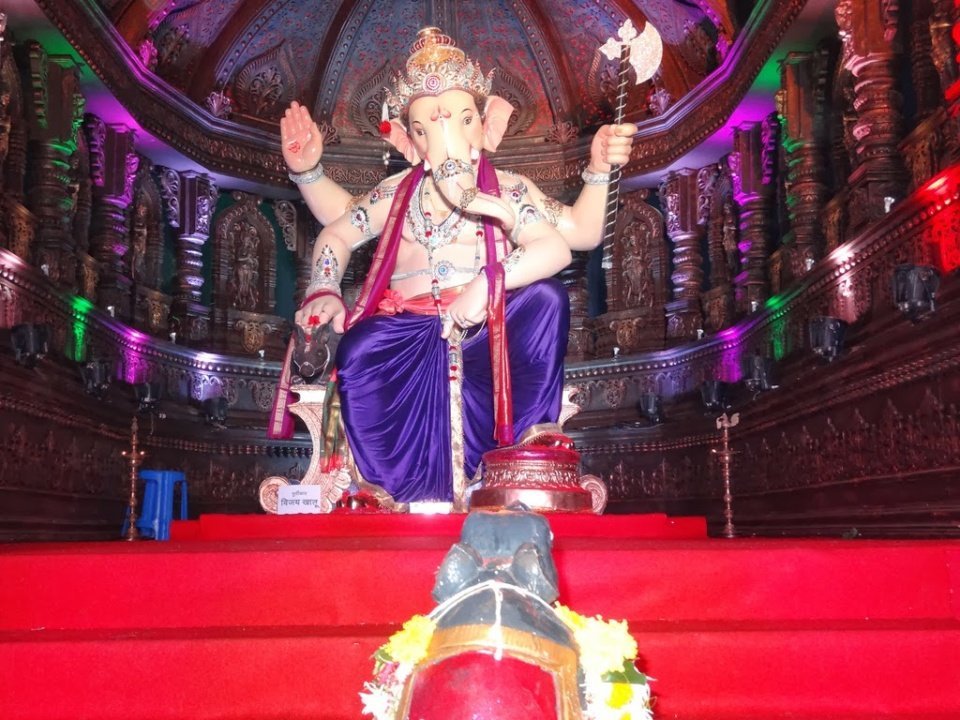 This one of the towering Ganesh Mandals in Mumbai and is only one of its kind in Kalachowki area of Mumbai.
Address: Swapnpurti, Digvijay Mill Compound, Dattram Lad Marg, Kalachowki, Mumbai, India 400033
Location: https://goo.gl/maps/PzmgapTUygv
The nearest railway station is Chinchpokli station.
No matter how hot and difficult it becomes, Mumbaikars are all set to visit these famous Ganesh Mandals. The fun, merriment and unity pave way for a tearful goodbye during idol immersion. Such is the love of this festival.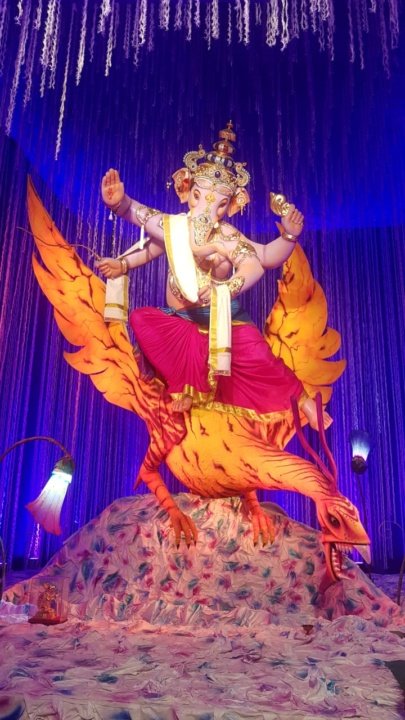 During the 10 days festival, approximately 10 to 20 lakh people visit Mumbadevicha Ganraj.
This Ganesh mandal is known for organising social activities such as blood donation camp, health Checkup etc.
Address: Parmananand wadi, life scape Nilay building, thakurdwar road, Girgaon (Charni road ) mum:- 400002
Location: https://goo.gl/maps/vLJ5qZx8C272