Book a Tour of Most Affordable Shared Office Space in Mumbai

.
We're based only in Lokhandwala, Andheri West
ABOUT MUMBAI COWORKING SPACE

If you are a startup, freelancer, or an entrepreneur in Mumbai, we know it's hard to find the right coworking space in the city of dreams. This is why we offer you a hassle-free onboarding and vacating process. We don't ask for huge deposits and give you the flexibility to work the way you'd like. Furthermore, you can even meet our friendly community of encouraging, like-minded people who can help you grow your business!

To know more call us on

MUMBAI COWORKING SPACE FOR RENT
Meanwhile, Mumbai coworking provides Shared offices with private cabins in Mumbai that are at your disposal. So you experience privacy while sharing our coworking space in Andheri west. Get a desk that fits your requirement within minutes with Mumbai Coworking spaces.
1 Seater Space (Flexi Desk)

Rs. 4,500 / Per Month
1 Seater Cabin Space
Rs. 10,000 / Per Month

2 Seater Cabin Space
Rs. 18,000 / Per Month
4 Seater Cabin Space
Rs. 30,000 / Per Month
6 Seater Cabin Space
Rs. 40,000 / Per Month
⭐⭐⭐⭐⭐
Rachit Hegde
Rented the 3 seater Cabin at Mumbai Coworking, and it came with private air conditioning and many other amenities. For 18000 Rs per month, it's totally value for money.
The Small Business Project
⭐⭐⭐⭐⭐
Aftab Khan
We are a small team of 5-6 people and wanted a private space which we can call our own. The 6 seaters private cabin option is just perfect for a small team like ours. We focus on our work, and they manage everything else right from cleanliness
Filmygyan
⭐⭐⭐⭐⭐
Dennis Mathew
If you are a startup and want a space to get started without spending too much, this is the place to be. I paid 5000 Rs for a desk and got started immediately. Their on-boarding process is super fast
Knowlens Solutions Private Limited
AMENITIES AT MUMBAI COWORKING SPACE
We don't simply provide shared offices and cabins but strive to give you the amenities you require to be productive and have a fruitful day.

Our space is thoroughly cleaned every morning by our in-house friendly helper Sanjay and Ram.

No need to provide your details in exchange for our WIFI password. Walk-in and connect to our lightning-fast internet with a simple password. (We mean truly lightning fast)
Our creative and vibrant interiors will surely have an effect on you. Our walls are filled with fun designs and art.

You heard that right. Get unlimited tea or coffee for free with any of our plans. Is there a better way to be motivated? We don't think so.

Mumbai Coworking has a train station only 10 minutes away and is at walking distance from 2 bus stops.

FREE SNACKS
Mumbai Coworking provides free snacks to all coworkers every evening, you know the time you magically feel hungry?
A LOOK INSIDE OUR COWORKING SPACE

LEADING SHARED OFFICE SPACE IN MUMBAI, MUMBAI COWORKING GOT FT. ON ET NOW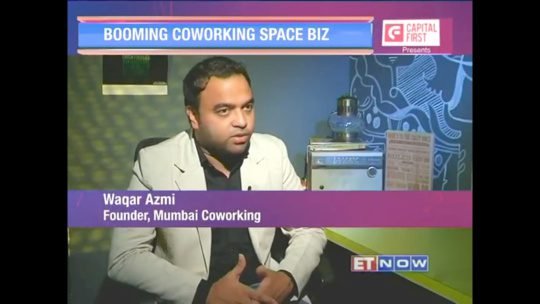 ET Now believes our affordable prices, easily accessible location, and beautiful interior makes Mumbai Coworking Space the perfect place to work. Our flexible payment terms and vibrant work atmosphere makes it the perfect place for any budding entrepreneur. Based in the posh locality of Andheri (W), Lokhandwala in Mumbai makes it easily accessible by the bus, metro, and the local train network.
The western express highway is just 12 mins away, while the eastern express can be reached in 25 mins. On the other hand, it lies between Link Road and S.V. Road to the west of Mumbai. Apart from this, you also get a shared office desk for as low as ₹5000 a month and private cabin spaces for just ₹10,000 a month. Additionally, we also offer various services like Virtual Office, One day pass, and Night Coworking.
Mumbai is a city bustling with talent and ambitions. We simply want to give you the space to fulfil those ambitions. Being the financial capital of the country, Mumbai has immense potential. With government offices being close by, major publication offices of the country being reachable and several Bollywood celebrities and influencers living here, the city is bubbling with opportunities for an emerging entrepreneur or a freelancer.
Furthermore, the city is also the epicenter of entertainment and finance. Not only is it the wealthiest city in India but it also has offices of almost all major businesses in the country.
It also has a reliant transport system with various options to choose from based on time, budget and comfort.
In a city where real estate rates keep rising, Mumbai Coworking comes as an affordable option to start your own business. We offer a myriad of options and services ranging from night co-working, virtual offices, one day pass and more! Making it easier to start your dream project in your dream city.
Ready to start with the best shared office space in Mumbai? That's great! Give us a call or send us an email