The tides have turned towards Mumbai and we're excited to welcome the most poetically ruthless monsoons yet again. Most love them, some hate them but none can ignore them, because when it rains in Mumbai, it wreaks havoc on pretty much everything in the city – from the roads, to rails to electricity to routine. Even so, arguable, Mumbai Monsoons is our favorite time of the year to be in the city. Sit back and enjoy the weather from the comfort of your home, sipping a hot cup of tea while snacking on delicious bhajias and variety of Monsoon food.
So here's our homage to Mumbaiya monsoon food, most (if not all) of which you must enjoy while the heavens thunder over our Bay:
1. Cutting Chai at Prithvi Cafè
There's nothing that can beat having chai at one of the most prominent cafè in Mumbai. Situated in small corner in the area of Juhu, Prithvi Cafè has a variety of food items which will satiate your hunger. Their cutting chai is a must try there. For you know, tea is a word but chai is an emotion.
Located in: Prithvi Theatre
Address: 20, Janki Kutir, Juhu Church Road, Mumbai, Maharashtra 400049
Timings:  10:30 AM to 10:30 PM
Phone: 022 2617 4118
Price: Rs.22/Rs.24
 2. Kanda Poha at Mee Marathi
Poha is the most popular Maharashtrian Dish, period. Fluffy rice made in spices and veggies, makes a perfect monsoon food. If you want to take a break from homemade Poha, you must try Mee Marathi for their lip-smacking Kanda Poha. Drop in early since they almost always have a long waiting order-time there.
Address: Shop No. 5, Alpha Apartment, Parleshwar Road, Vile Parle East, Mumbai, Maharashtra 400057
Hours: 8:30 AM to 10:30 PM
Phone: 022 2613 4636
Price: Rs. 40 per plate
3. Mix Pakoras at Patel Stall
Fondly known as Patel Corner, the stalls in this lane are famous for their comfort food. They serve hot tea, bhajias and paan here. Chandrashekar Patel's stall is our go to place for Kanda bhajias and bread pakodas during Mumbai's Monsoons. Bhajiyas of any kind are our must monsoon food to have.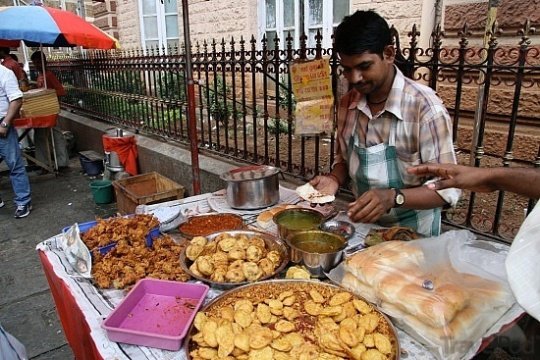 Address: Outside Juhu Supreme Shopping Centre, JVPD Scheme, Juhu
Timings: 8 AM — 8 PM
Price: Rs. 20
4. Vada Pav at Ashok Vada Pav
Now, I remember what I said about Poha being the most popular Maharashtrian dish but Vada Pav is arguably Mumbai's (if not Maharashtra's) most popular snack. Aloo vada with soft white bread (pav) served with well-made chutneys (green or red) just adds the right balance of flavors to this desi burger.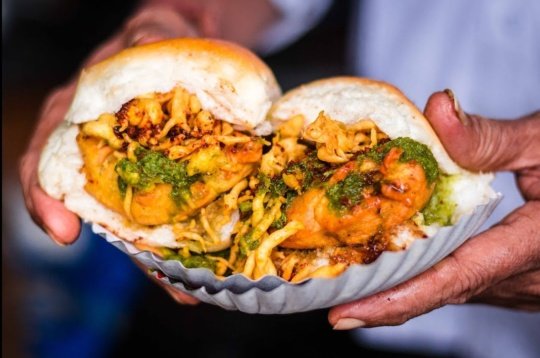 Address: Off Cadel Road, Kirti College Lane, Prabhadevi, Mumbai
Timings: Open Today   (11:00 AM – 9:30 PM)
Phone: +912224369003
Price: Rs. 15
5. Masala Pav at Maruti Pav Bhaji
If you know anything about Mumbai and its food choices, you'd know how obsessed Mumbaikars are about Pav. So here we have Masala Pav, one of the most unique creations in food in this city. Masala Pav is exactly what the name suggested but tastes much better than it sounds. Trust me, I'm salivating just by writing about it so you know it has to be one of the top 5 dishes to eat during monsoons. What makes Maruti Masala Pav different is the look of it's masala. And while you are at Maruti, try their Black Pav Bhaji, it tastes as good as it sounds. You'll have to try it to know what we are talking about.
Address: Shop No:24, Angelina Apartment, Ground Floor, Old Police Station Road, Kamala Nagar, Vile Parle, Mumbai, Maharashtra, 400056
Timings: 7:30 PM to 12 AM
Phone: 098336 39180
Price: Rs.40
6. Bhutta(Corn on the Cob) at Gupta Bhel Center
The Gupta Bhel Centre runs a monsoon corn business on a Matunga pavement and attracts patrons from as far as Palghar. This desi corn on the cob is a must monsoon food. Corn Cob rubbed with paprika, salt and lemon make it a lip-smacking favorite delicacy during a cold rainy day.  In addition to the relatively new items such as the cheesy corn bhel, Gupta's stall sells buttery sweet corn (Rs 30) and white corn (Rs 40).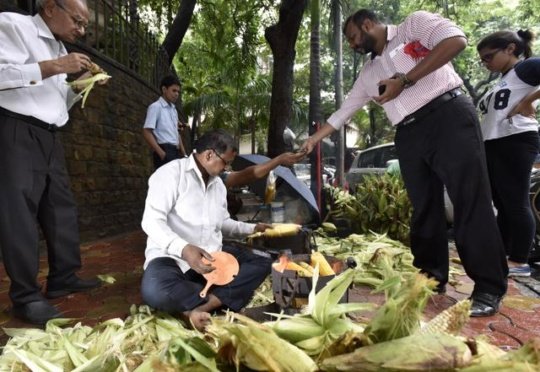 Address: Opposite Noble Chemist, Five Gardens Junction, Matunga Central
Timings: Daily, 2.30 PM to 8.30 PM
Phone: 98211-15808
Price: Rs. 30-40
7. Chana Chaat at Juhu Beach
Kala Chana Chaat is a healthy chaat made with protein-rich Kala Chana, tossed in simple spices and a splash of lemon juice.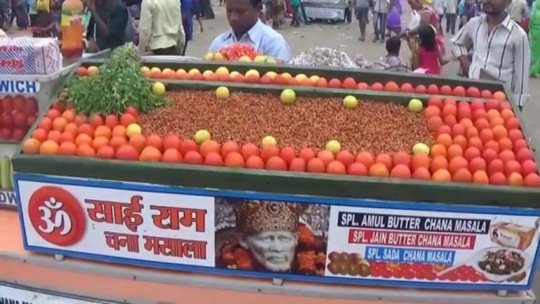 Nutritious chana, mushy potatoes, juicy tomatoes, sharp onions, sweet pomegranate pearls and a sprinkle of masalas makes a chatpata chaat as a great Indian salad as well. Considered as a popular street food as well, this chaat is sold at street food carts and 'thelas' (temporary kiosks by locals)
So if you visit the beach during rains, this makes it the perfect companion.
Address: Juhu Tara Road, Juhu, Mumbai, Maharashtra 400049, India
Price: Rs.20-30
8. Masala Dosa at Cafe Madras
This is another great place serving South Indian cuisine in Matunga. It's quite popular among college students. Raagi Dosa, Pineapple Sheera, Mysore Pak and Filter Coffee (of course) are the best items on the menu. We must add that the Bisibele Baath here is mouth-wateringly good! Definitely add this to your list of must monsoon food to have, but get ready to wait because it is in demand(since years). So hurry, get there asap and enjoy this yummy South Indian masala stuffed crepe.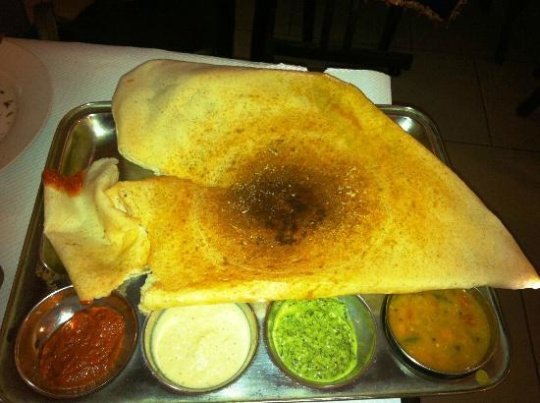 Address: Kamakshi Building, No. 391/B, Bhaudaji Road, Matunga, Kings Circle, Mumbai, Maharashtra, 400019
Timings:  7 AM to 2:30 PM, 4 PM to 10:30 PM

Phone: 022 2401 4419
Price: Rs.50
9. Samosas at Gurukripa
From Vada Pav to Burger, from stall to a restaurant, Mumbai has everything that you ask for. Gurukripa Hotel- 58-year-old restaurant in Mumbai is famous for its chunky samosas. Samosa is available with different stuffings such as Paneer Samosa, Kachori, Ragda Samosa. For all the sweet lovers, Gulab Jamuns are damn delicious and a must try. Samosa with some hot jalebi counts for the perfect monsoon food combination.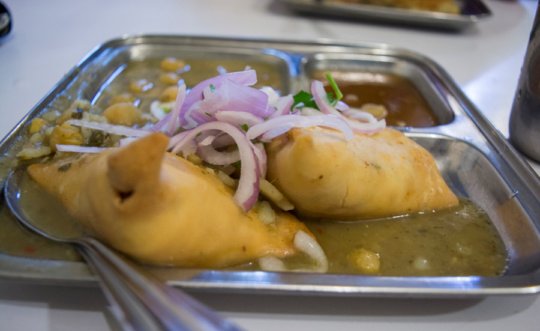 Address: 40, Guru Kripa Building, Near Sies College, Sion West, Mumbai, Maharashtra, 400022
Timings:  8 AM to 10:30 PM

Phone: 022 2407 4188
Price: Rs.37 for a plate of Chole Samose
10. Misal Pav at Prakash Uphaar Kendhar
Our favorite, the fiery Misal. It's served traditionally with a filling batata bhaji and topped with crispy chivda and onions. Just dump all of the components on to the plate, squeeze the lime & savor the stellar taste.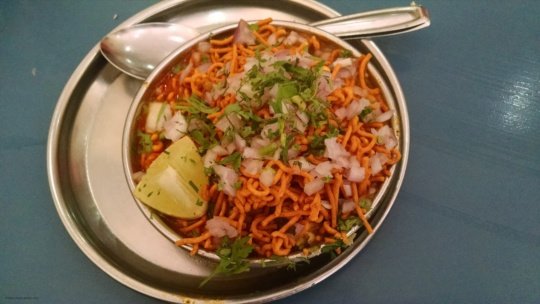 Address: 9/10, Horizon Building, Gokhale Road North, Dadar West, Mumbai, Maharashtra, 400028
Timings: 7:30 AM to 10:30 PM

Phone: 022 2445 6095
Price: Rs.50
11. Sandwich at Sandwizza
Sandwizza is located in Santacruz. It's a really small cafe but the sandwiches and toasts they offer are absolutely lip-smacking and delicious. From the menu, I'd recommend the veggie mayo sandwich and the veggie mayo toast – they're the crowd favorite. The activity toast, spinach corn toast, chilly cheese toast and the tandoori toast are also worth trying.
They have outlets all over Mumbai and if you haven't grabbed a bite of their authentic goodness, you are certainly missing out on something worthwhile.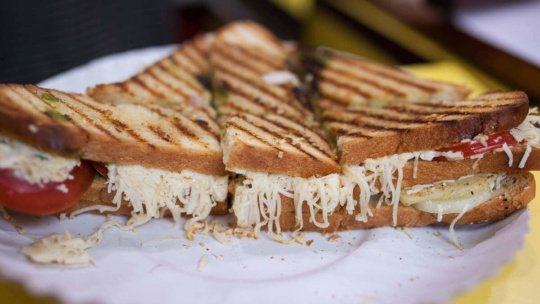 Address: Shop No-12, Link Way Palace, Near.Infiniti Mall, Next To Costa Coffee, Lokhandwala, Andheri (W), Mumbai, Highland Park, Andheri West, Mumbai, Maharashtra 400053
Timings:  11:15 AM to 9:30 PM

Phone: 022 2634 7799
Price: Rs.83 to Rs.160
12. Soup at Lokhandwala Backroad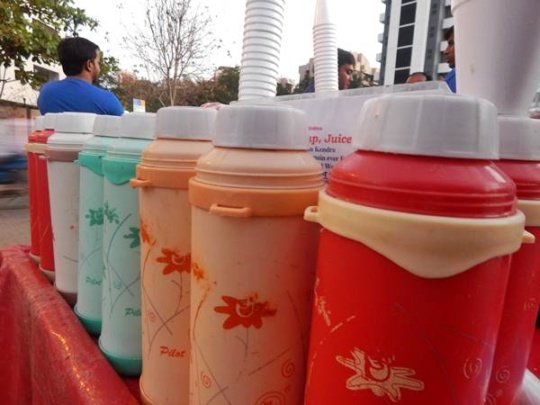 Located at the fringes of Lokhandwala, Andheri, the famous jogger's park has a neighbor that serves some delectable nutritious delights. From salads to soups to fruit juices, these street shacks are a boon for the healthy lot.  However, the carts at Lokhandwala manage to whip up some delectable bowls of delight without burning a hole in your pocket. The Manchow Soup has frequent orders, however, the vendor recommended to try their Protein Soup which is made of spinach, carrot, drumstick, mung beans and soya. It is flavored with pepper, green chutney and lemon juice and a garnish of cabbage, crispy chaklis and chana chor (pressed gram snack). This makes it the perfect healthy snack to grab during the monsoons.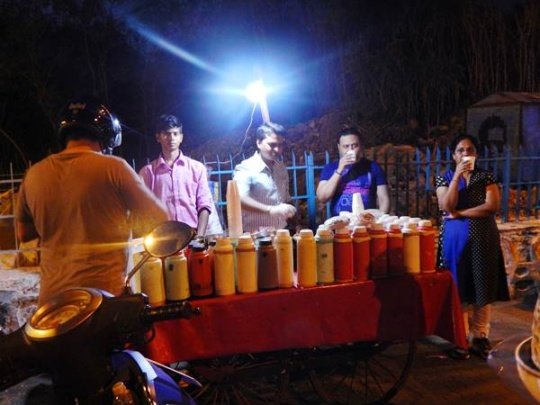 Address: BMC Rd, Lokhandwala Complex, Andheri West
Timings: All throughout the week 5 PM- 10 PM
Phone: 9769186660
Price: Rs.40
13. Keema Pav at Hotel Grant House
Roughly minced meat with a good robust bite, cooked in a garam masala stamped curry, with a feather pillow soft pav to mop it up with. This piping hot meal makes it the perfect food for monsoons.
So if you are in Mumbai during rains, love meat and want a spicy and power-packed start to the perfect rainy day, then a good plate of keema with pav is just what you need.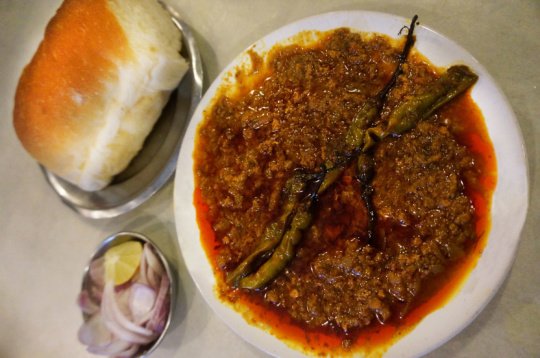 Address: Next to Haj House, Near M.R.A.Marg, Police Station, Mumbai, Maharashtra, 400001
Timings: 7 AM to 11 PM

Phone: 022 2261 7059
Price: Rs. 95 to Rs.120
14. Kachoris at Shegaon Kachori Center
In spite of their 3 branches in Pune the filling and chutney, the ingredients are still regularly transported 460 km from Shegaon, still made fresh by the owner Mr. Manoj Sharma himself. The Kachoris here are served with chutney alongside, and as good accompaniments do, it just adds to the taste in an exceptionally balanced way, not overriding the primary flavor of the Kachori. Karamchand Sharma's Kachoris are just too good! Fried till golden brown these Kachoris are a must try during these rainy days. If you planning its takeaway, club it with a masala chai and your day is made.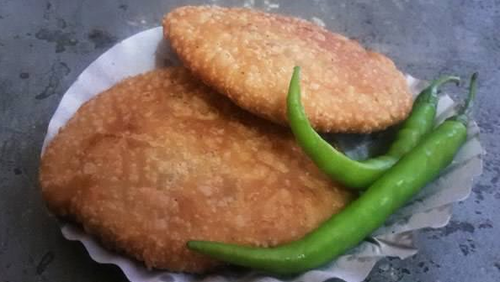 Address: Shop NO 4, Maltibai Hospital, Near Sent John High School, Jambali Naka Thane, West, Mumbai, Maharashtra 400601
Timings: 9 AM to 9 PM

Phone: 099234 65089
Price: Rs. 20 per piece
15. Momos at The Appetite Momos
Vegetarian Momos, Chilli Momo, Egg Momos, Chicken Achari Momo, Paneer Achari Momos, Mutton Nawabi Momos – you name it and they have it. This is a true haven for all momo lovers in the city. Pocket-friendly and delicious, these dumplings are a must try and you should definitely add it to your list of food to consume during rains. It might be a hectic commute if you're in the suburbs but it's definitely worth it.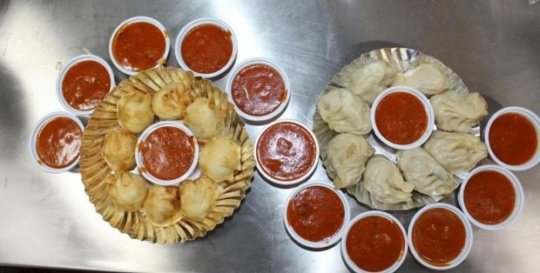 Address: Opp ICICI Bank, Dada Patil Wadi, Thane West, Thane, Maharashtra 400602
Timings:  9 AM to 11 PM

Phone: 086575 05050
Price For Two(approx.): INR 75 for Chicken and Paneer Momos, INR 50 for vegetarian momos
16. Jalebi at MumbaDevi Jalebi Wala
Mumbadevi Jalebiwala in Mumbai is an old and legendary sweet shop. It is known for serving only two items, Papdi and Jalebi, but they're known to be one of the best for it. The papdis and jalebis are prepared in real time. Jalebis are luscious, crispy and juicy. It is recommended to be eaten on-spot because jalebis are at its best when served hot. Go on and devour this with this combination of cold rains. It's a match made in heaven.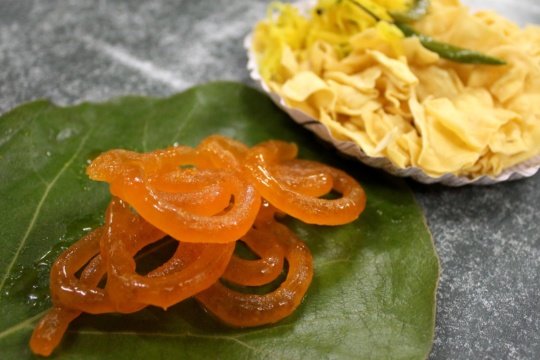 Address: Shop No.B-6, Krishna Kutir, Factory Lane, Opp.M.K.College, Borivali West, Mumbai, Maharashtra, 400092
Timings: 11 AM to 10 PM

Phone: 098205 24465
Price: Rs.100 per gram
17. Desi Chinese at Ravi Rice/Discovery Restaurant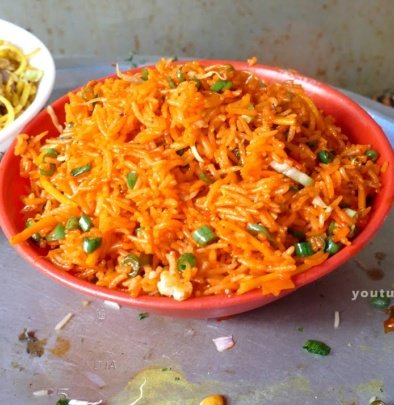 Indian Chinese cuisine is one cuisine in India which is loved by everyone. It is one cuisine that tickles your taste buds with different flavors and making us crave for more. Ravi Rice is one street food joint that does the same. His tasty, hot food drags his customers back every time. Ravi rice is a small roadside stall that cooks dishes right in front of you located just outside MMK college at Bandra.
Discovery is another variant for your desi Chinese cravings. This decade-old beloved food joint is small, quaint, and full of its regular patrons. Creativity floods their menu as wild dishes with exotic flavors feature in every order. We suggest you taste the saucy and succulent Chicken Hunan, and for vegetarians, the Peanut and Flat Noodles is the dish to try. And the best part is that they're seriously wallet-friendly, perfect for college student budgets.
Ravi Rice-
Address: 37th Rd, Khar West, Mumbai, Maharashtra, 400050
Timings: Opens 11 AM Fri
Phone: 086920 58315
Price: Veg – Rs. 40 Non-Veg – Rs. 60
Discovery Restaurant-
Address: Shop No.1, Rendez Vous Building, Oberoi Complex, Live India TV Lane, Beyond Laxmi Ind., Lokhandwala, Andheri West, Mumbai, Maharashtra, 400053
Timings: 11 AM to 11:45 PM

Phone: 022 2639 8506
Price: Rs.100 and goes on to Rs.300
18. Sizzlers at Alps
Who wouldn't want an entire hot platter of a variety of meat during the rains? This nondescript Colaba restaurant may not have an extensive menu of sizzlers but they do them well, especially the Non-Vegetarian Mix Grill. You can wash that down with a chilled beer on a rainy Sunday afternoon.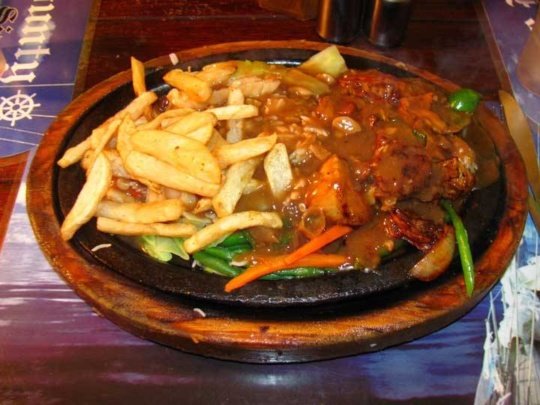 Address: Ground Floor, Roosevelt House, Nawroji Furdunji Road, Colaba
Timings: 11 AM to 11 PM
Phone: 098199 35529
Price for two: Rs 800
19. Parathas at Khasiyat – The Paratha House
With a name like 'The Paratha House,' you better believe their parathas are unbeatable. Thick, soft, buttery and with a generous amount of filling you won't be able to settle on just one but don't worry they've got you covered. Khasiyat offers 3 types of paratha baskets so you never have to deal with paratha FOMO. The first serves four fixed flavors, the second lets you pick and mix your own flavors and the third is solely cheese and paneer parathas. All the baskets come with chole, black dal, raita, and pickle so you definitely don't have to worry about going hungry.
Address: 21, Dashrathlal Joshi Road, LIC Colony, Suresh Colony, Vile Parle West, Mumbai, Maharashtra, 400056
Timings: 9 AM to 12 AM
Phone: 022 2617 8170
Price: Rs.190 to Rs.330
20. Maggi at Home/ Or wherever you want
Maggi is the favorite dish of all the lazy food lovers. It is the ultimate savior that rescues you from hunger within a few minutes. The easiest way to quench hunger after a tiring day is to cook Maggi within just 2 minutes.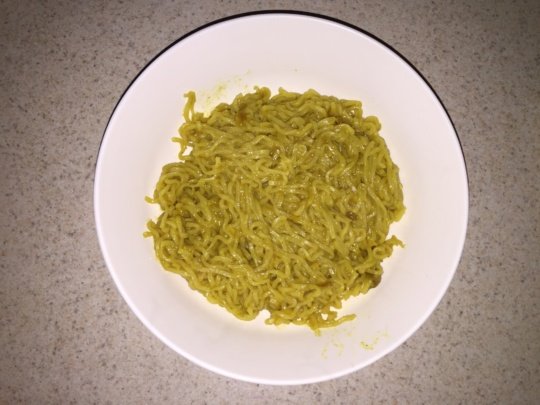 Whether kids or adults, everyone loves to enjoy Maggi. However, the difference lies in various varieties of this instant noodles. While some people like to eat it plain, others prefer to prepare Maggi with their favorite food items, and the good thing is that Maggi goes well with many ingredients. This two-minute noodle obviously takes more than two minutes to prepare, but it's totally worth the wait. Moreover, the fun of having a 'Rain Waali Maggi' is completely unique. Maggi is quick to make, is open to customization, and never fails to delight you. You can have an all veggie Maggi, or you can go for a chicken Maggi, or the fried Maggi, or perhaps the good old 'default' Maggi. There are just so many ways to cook your Maggi! 
Price: Rs.11
DISCLAIMER: When subjected to the above-mentioned food items there might be some disturbance in your tummy. So if you have a weak immune system,  we suggest that you avoid some of them, See, we really care for you.
So go on and enjoy these days filled with glee, happiness and lots of yummy food. 🙂