India's business environment has undergone a dramatic change, with start-ups coming into being at an exponential rate. Mumbai is the commercial capital of the country, hence it is not surprising that many of these new companies have decided to 'set shop' here. With so many companies, most struggling with finances, and the exorbitant prices of real estate in Mumbai, the problem of finding office space is Herculean. To counter this problem, it would be easier to find coworking space – shared office spaces utilized by several companies. The good news is that there are several options here in Mumbai.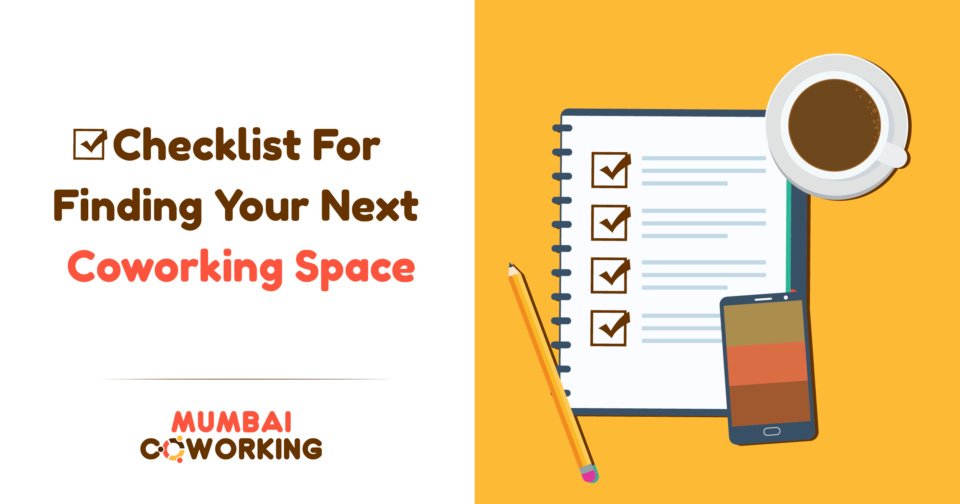 Here is a checklist of what a great coworking space would be:
1. LOCATION
Given the long commutes and maddening traffic, when looking for a coworking space ensure that is easy to locate, close to central places, convenient, and certainly visible to current and potential clients. While it may be a little more expensive to rent, a co-working space nestled in the middle of popular urban areas would certainly get you more visibility and business. Your company should have the leeway to put up a glow signage too.
2. Lively Culture and Collaborative Community
Since there would be other companies working out of the space, it is important to ensure that the people surrounding your team, inspire them to work well. Co-working space is about community and the ability to work together, share, grow, and learn from each other. Hence, the culture and overall environment of the coworking space would prove to be important factors in the work performance of those working out of there. Ensure that you conduct a thorough research of the other 'occupants' before taking up any coworking space.
3. Encourages Networking
Further to the point above, surrounded by and working alongside like-minded people encourages networking and increases opportunities for business. By being part of such an environment, companies can benefit from the experience, culture, and contacts of other companies sharing the space. For example, one company may have expertise in an area that another could be lacking, and hence it would save time and effort to look for such a resource outside. This creates a rich pool of knowledge, expertise, and skills, all centralized in one space. Owners of co-working spaces should work as facilitators for such networking, such that more clients want to use their space.
4. Relaxed, Inviting, and Invigorating Space
Keep your workforce in mind when choosing a coworking space. The lighting, windows that allow natural light, water, pantry, washrooms, comfortable furniture, soft pipe music, and other such features are necessary. They add to emotional well-being and help the people working to carry on their duties in a relaxed yet encouraging space – ensuring higher productivity and optimized work performance. Research shows that if the physical working environment is pleasant, people work better, there are lesser chances of conflicts, and absenteeism is low too. Happy employees, make happy customers, who make successful businesses.
5. A Recreational Hub
Top corporates understand the value of ensuring that employees have enough leisure time/breaks between performing their job responsibilities. Hence, it would be great to keep in mind when looking for a coworking space that either, the building has a variety of cafes, restaurants, and leisure areas, or the coworking space itself affords such recreational facilities. It is all about creating the right environment for your employees by showing that you care.
ALSO READ: Inside The Best Coworking Space In Andheri
6. Amenities and Facilities
A great co-working space would have speedy and uninterrupted Wi-Fi, meeting spaces, laptop charging points, ergonomic workspaces, individual workstations with storage areas, printers, stationery lockers, courier facility, and other such facilities. Some co-working spaces may also have day care facilities – which would be ideal for young and new mothers.
7. Hygienic Food and Snacks
Most co-working spaces would afford the companies using their services, with a large lunchroom for the occupants to eat their afternoon meal, and during the day snacks. A tuck shop and a kitchen facility in a coworking space will ensure that the workforce would be able to eat and freshen up whenever they need. Being able to satisfy sudden hunger pangs works wonders for the overall well-being of people!
8. Office Assistants
If your company is not large enough to employ full-time office assistants/administrators, check with your coworking space provider if they provide such service. Most good quality spaces would offer temporary staff to support top executives, freelancers to provide ad-hoc yet critical services, and perform other such specialized roles, at cost effective rates.
Bonus feature: Round the clock tea and coffee facility is one of the best features of a good coworking space! Your staff would feel energized and would have a mild distraction with their brew without taking too many breaks.
When finding co-working space, remember that such spaces should bring together business professionals, entrepreneurs, and top talent from varying industries and areas of expertise. It should reflect uniqueness, engagement, and attractiveness from every aspect – attributes that would make it pleasurable for visitors too. Even though a large part of the business now is conducted online, brick and mortar spaces are equally critical to the success of a company. Budget should not be a hindrance in setting up real world office space, but looking for and finding the best workspace is critical to success. Happy co-working!
If you're searching for all of these features in a coworking space call us now at +91 922 221 3191 or visit Mumbai Coworking