Instagram has turned to become one of the most popular social media sites. With a vast amount of users and a variety ranging from personal bloggers, photographers, and even influencers, Instagram is one place for all your needs. You can search for food places, places to visit around the city and even be updated with new fashion trends all by following certain blogs on Instagram.
We have hand-picked a bunch of blogs that are a must-have on your Instagram following list.
Food Instagram Accounts
With a passion for food, this hungry soul travels the streets of Mumbai in search of delicious food. He loves to try out new places to eat and even street food. His love for food and passion to explore new joints, he has a lot to offer.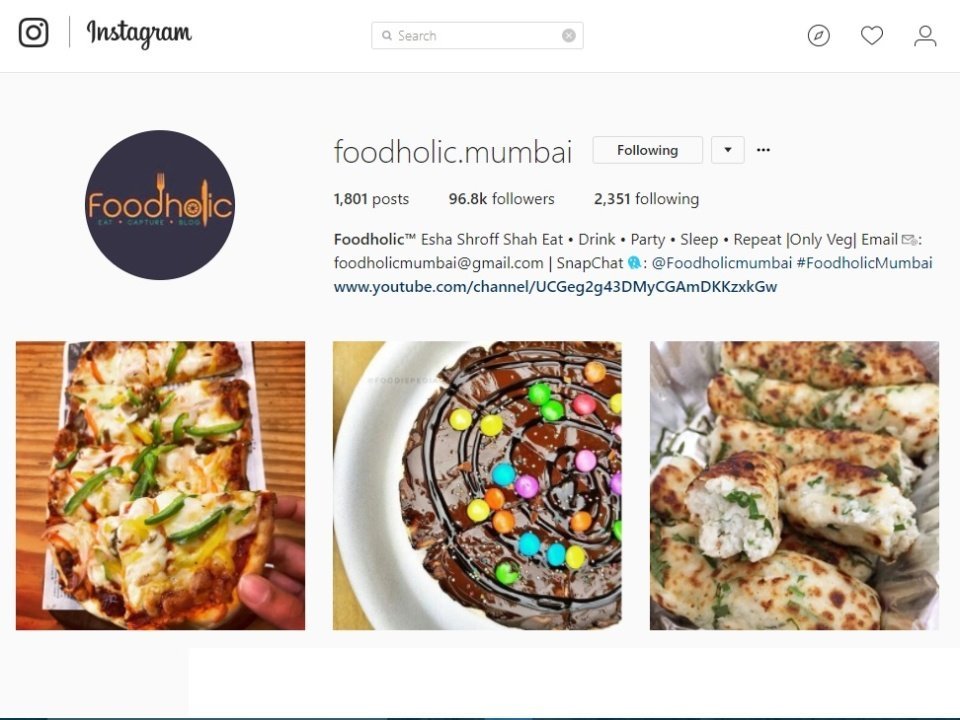 Started by Esha Shroff Shah, for all those "pure veg" lovers who find it hard to get a variety of yummy veg food.  'FOODHOLIC' is the best thing you can be following on Instagram. Here you'll find all types lip smacking chats, pizza, and desserts to satisfy your hunger buds.
Sticking rightly to its name, Mumbai Foodlicious portrays a range of the most delicious food. From burgers, pizzas and even pure Indian food that tantalizes your taste buds. With new flavours to explore, this food heaven page is a must follow for you food lovers.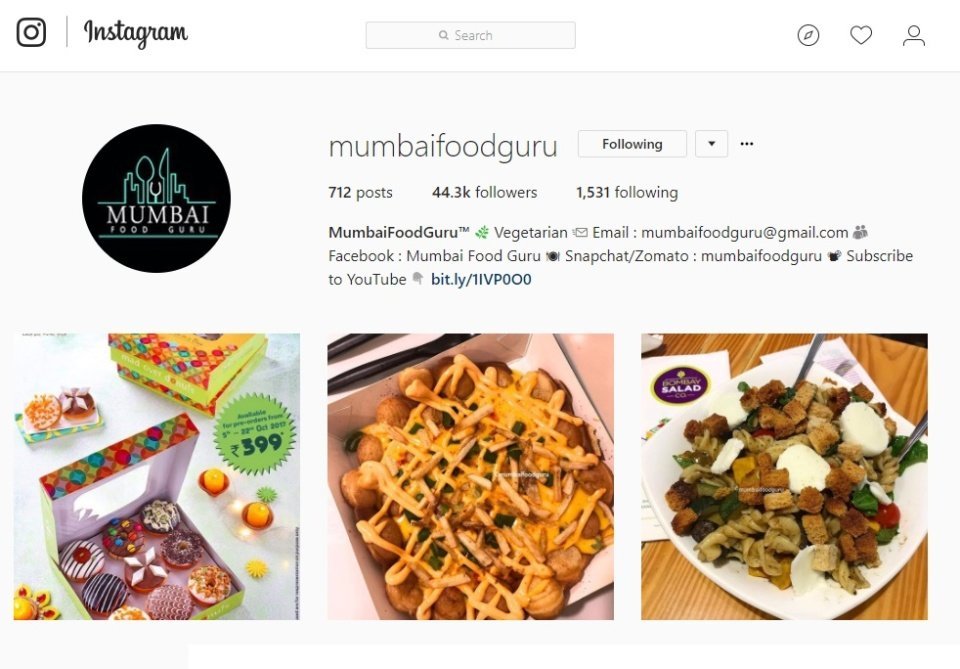 Veg lovers out here may seem like its difficult to get good quality veg food around here. Au contraire, Mumbai Food Guru has just found the perfect joints in and around the city to excite your taste buds. From salads to full course meals, she blogs about food joints rates them and even vlogs about it on her youtube channel.
Started by Harsh Jhaveri the blog calls out to every foodie in Mumbai City. He goes around the city scouring one eatery at a time. His immense love for food has taken him places and the results are absolutely delicious. He knows food; cheesy and savory which work like magic when you need to surprise your taste buds.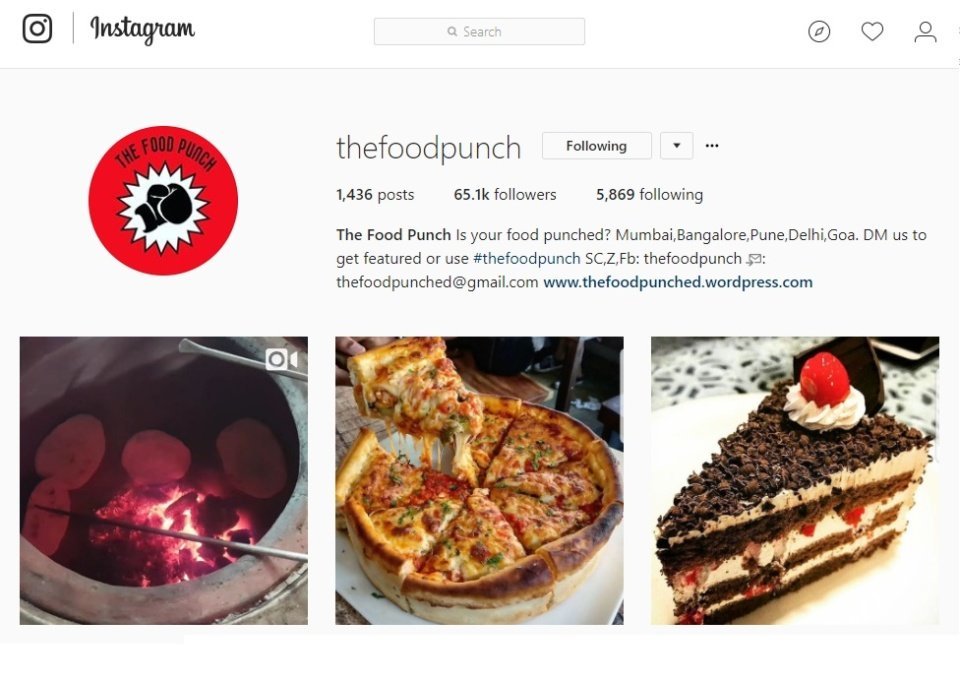 The Food Punch is a one-stop spot to get your food knowledge updated. Pizza's, pastries and even Indian street food twists are what awaits you on this page. The Food Punch gets you the where-to about any foodie delight and takes to a food paradise.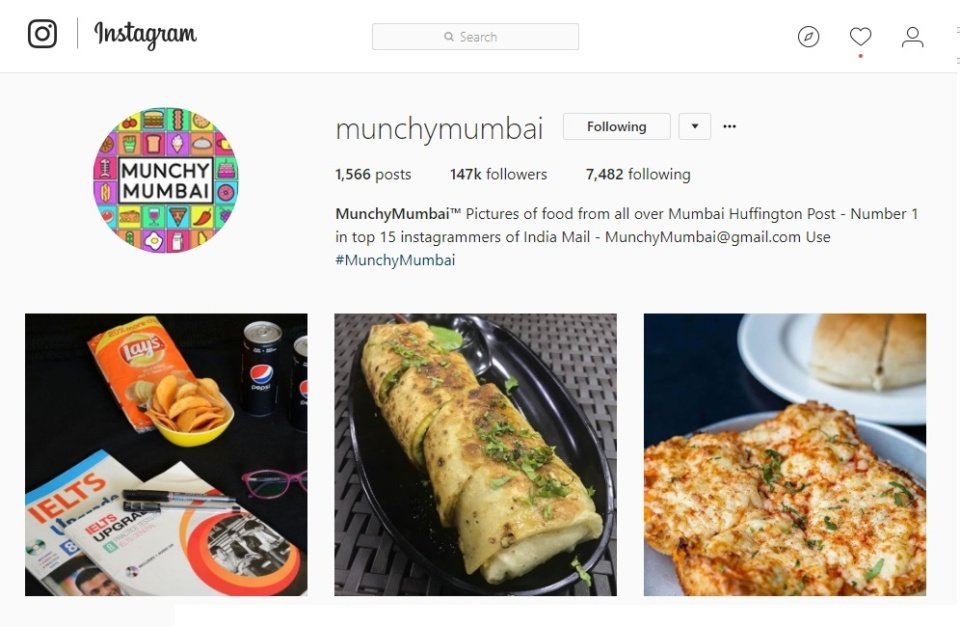 Munchy Mumbai is your go-to blog to know where you can get lip-smacking food. You can get new restaurants and even discover street food fusions and specialties. It has been ranked number 1 in Top 15 Instagrammers of India Mail.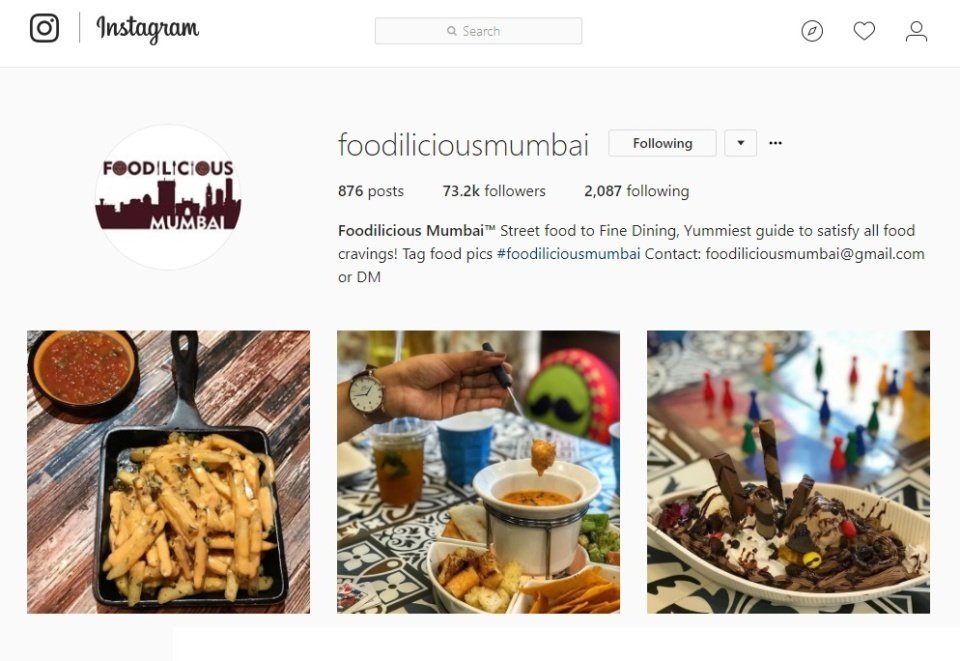 From street food to fine dine, Foodilicious Mumbai is the yummiest guide to satisfy all your food cravings. From the cheesiest pasta to the chocolate heaven, this blog has got every Mumbai foodie with the love to explore new places sorted.

If you're all about experimenting in the kitchen or love a good thali, The Gutless Foodie is a must follow. She lost her stomach to a tumor but that didn't diminish her love for a good home cooked meal. She comes up with variations of Indian food and loves to share her experiences and recipes with her followers and even responds to any queries.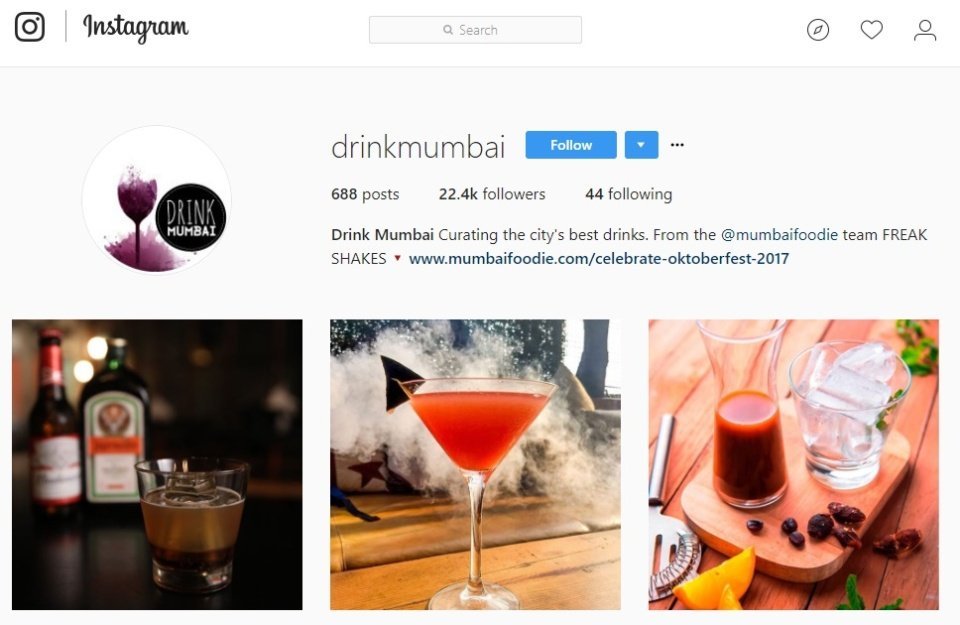 If you're looking for a place to visit on a weekend or even to drive away Monday blues, Drink Mumbai is just the place to go scrolling through. Know where to get the best coffee, freakshakes, beers and even those beautiful cocktails. Explore new places to grab new drinks every weekend.

Staying true to his name, Bombay Bhukkad explores the streets of Mumbai in search of new food and variations of the simplest vada pav and chaat. His love for Indian street food has exploded all over his page and if you're looking for delicious, mouth-watering food, he is must follow on your Instagram.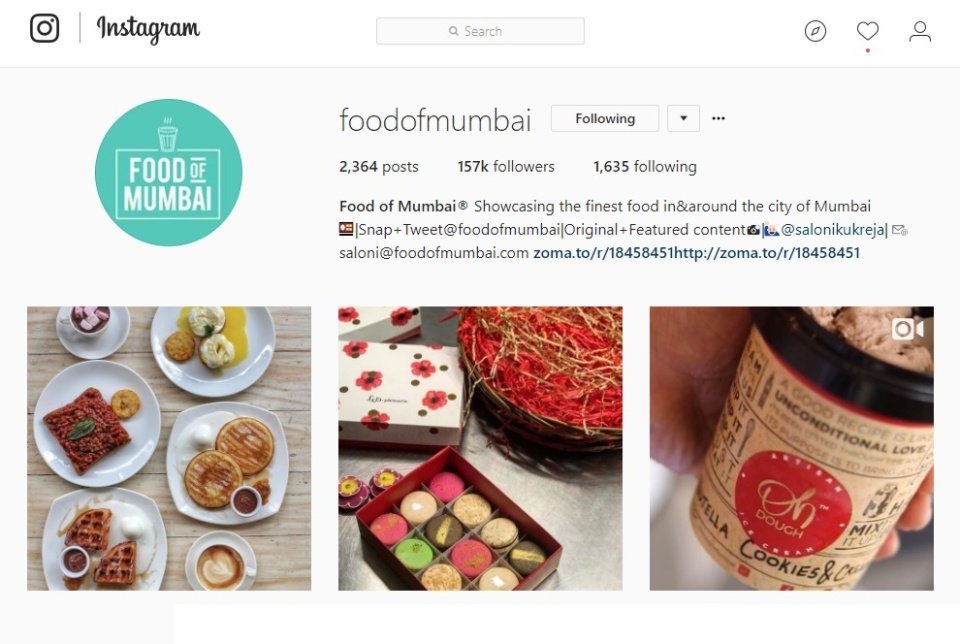 Get the biggest restaurants to the smallest yet cherished street food all covered under one page-Food Of Mumbai. From fine food, desserts, and drinks, he offers you a vast range of places to explore in and around the city of Mumbai.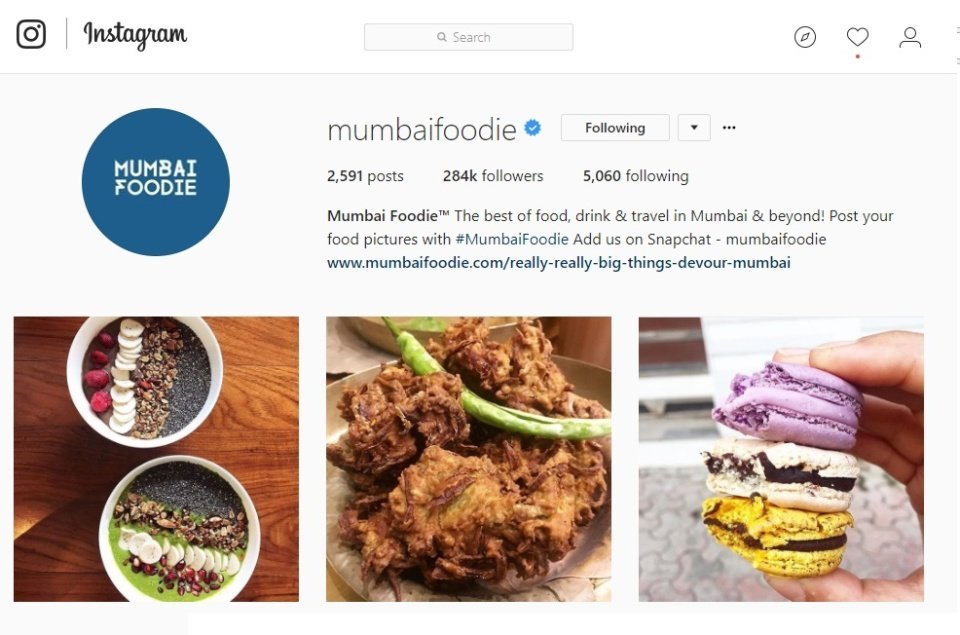 Mumbai Foodie offers the best of food, drink, and travel in and around the city of Mumbai. Platters of goodness bombard this profile and trying out new places to eat always tops the list.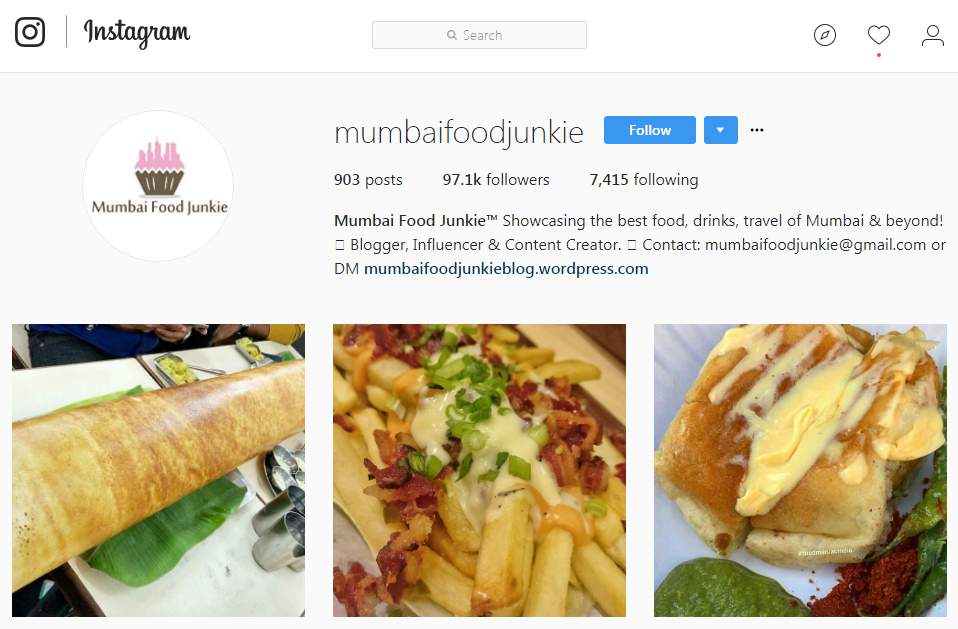 As the name states, the page goes to show the best food on the streets and in the city. It showcases the best food, drinks, and deserts in and around the city.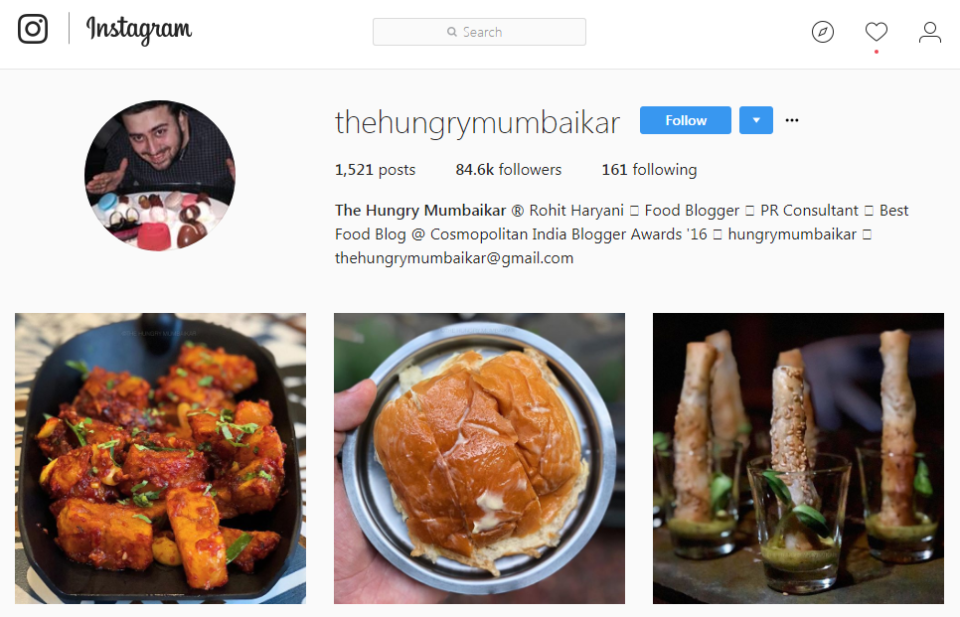 Rohit Haryani or The Hungry Mumbaikar is a food blogger from Mumbai. His love for food and adventurous spirit to explore new flavors has helped him find new exciting places and food.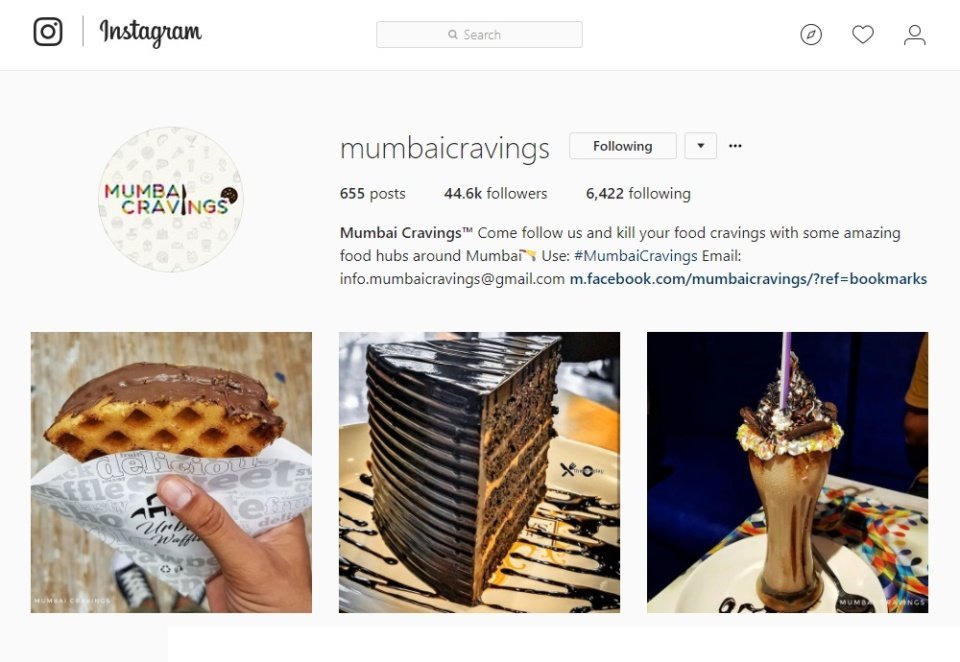 It's hard not to have cravings in a city buzzing with food and activity. Mumbai Cravings helps you kill your food cravings. They can hook up to the most savory, delicious food joints in and around the city.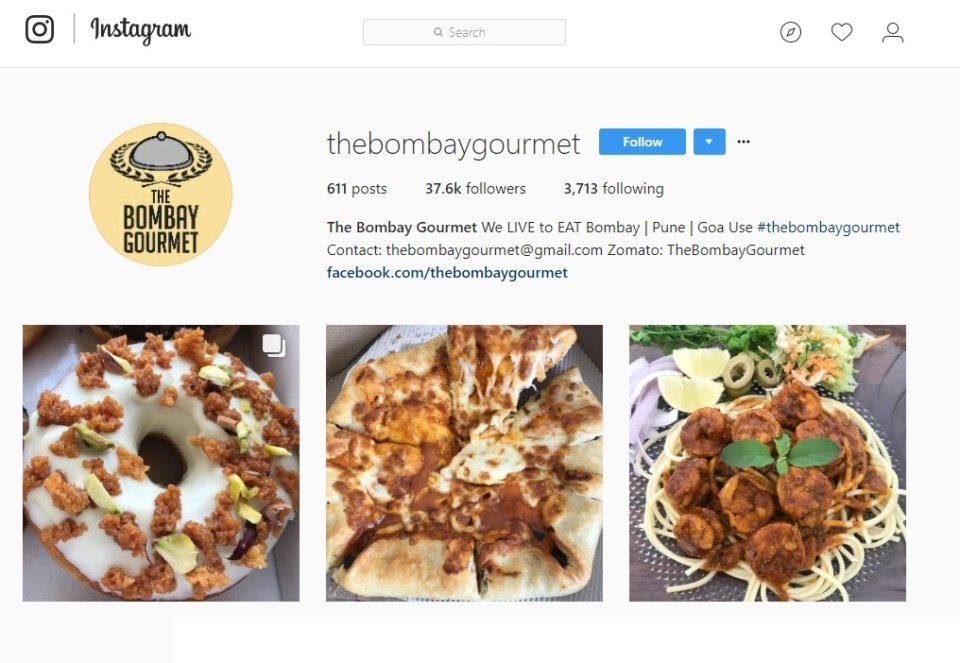 From the cheesiest pizzas to the tantalizing spices, The Bombay Gourmet has you covered with an assortment of food and a variety of places to choose from. Get yourself an introduced to a world of delicious food.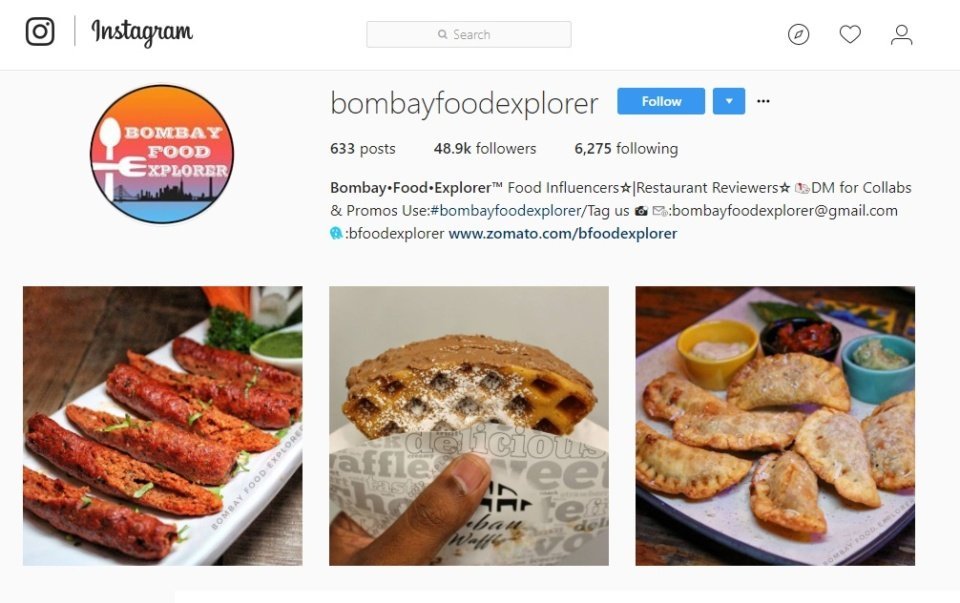 If you love food and love to treat yourself to some new and mouth-watering food, this is one page you should check out. Their love for food and the passion to explore the food map, they have a range of places you would love to check out.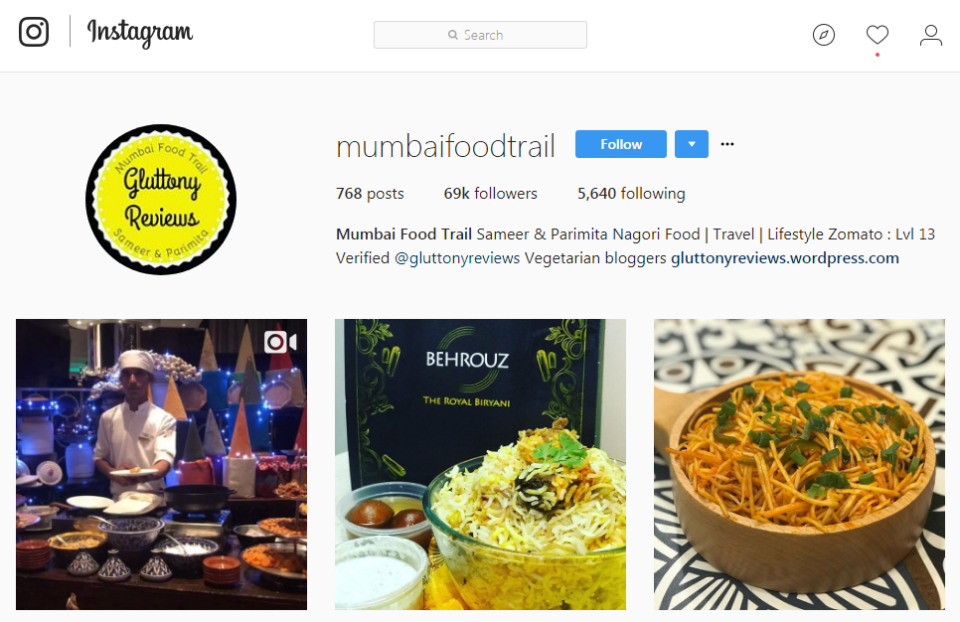 Owned by Sameer and Parimita, Mumbai Food Trail calls to all veg lovers who want to find new places to have a flavor burst. They love to show you places that are unknown and place them on your go-to map.
Travel Instagram Accounts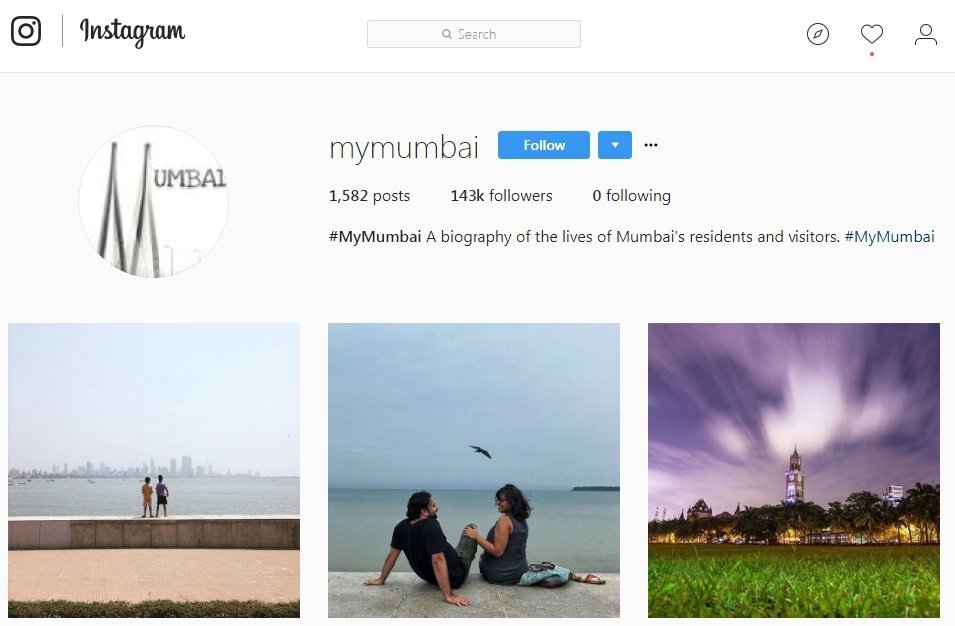 The name rights stand true as it shows the daily lives of people in Mumbai living their daily lives. If a picture is worth a thousand words, this page writes novels.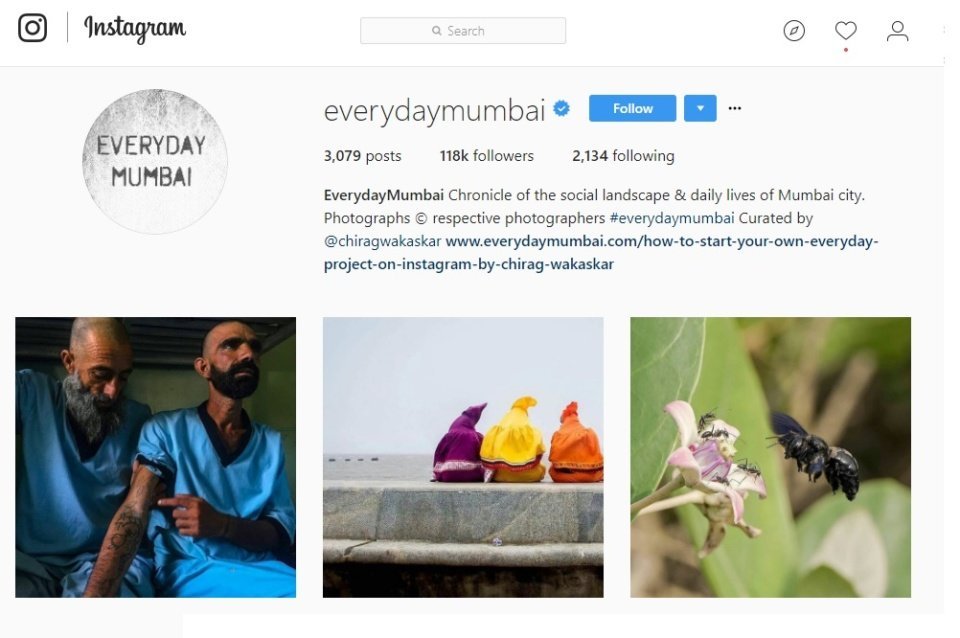 In a city like Mumbai, things change even on a regular basis. From places to nature even views that are rare in the city, everyday Mumbai gives you a glance at a fresh face of the city every single day.
For a city that never sleeps, there is so much to do only if you knew where and what. This page has you covered with a wide range of things to do, places to explore and food to eat. If you're looking for a new adventure every day you must check out this page.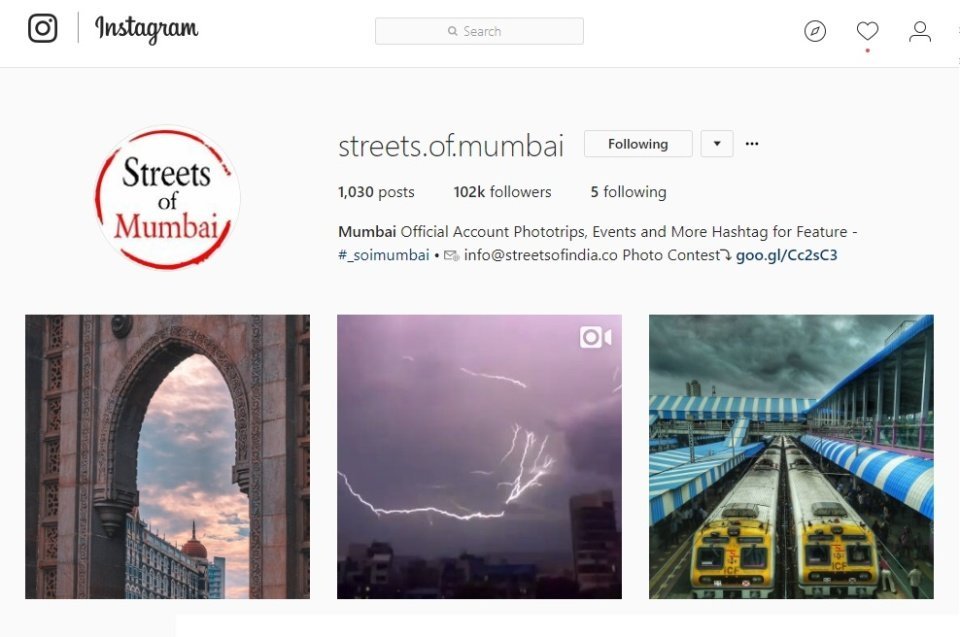 Same city but different views and its hard to get a view of all these beauties. Streets of Mumbai is one such blog that lets you have a glimpse into every nook and corner around the city through a lens. With a colorful view, you are given a tour of the hidden parts of the city right in the comfort of your home.
Crowded as it may be, Mumbai still stays to be the most loved city. The page portraits views and scenes from everyday life in Mumbai and gives its followers a  glance at some of the most unique and authentic sights in and around the city.
Standing true to its name, Mumbai Uncensored gives a view of the most explicit, true side of Mumbai. The heart of Mumbai is huge and along with that it is raw and that is the content provided.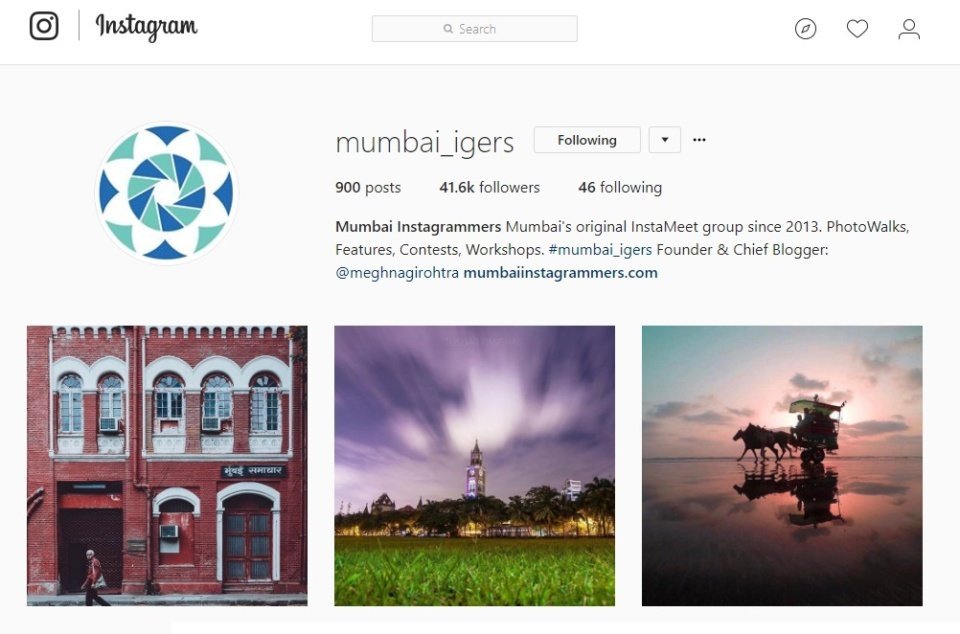 Home to all Instagrammers who view the city with a new and fresh perspective, the page was originally founded by Meghna Girohtra. She organizes photo walks, contests, features and workshops for all those with a similar mindset.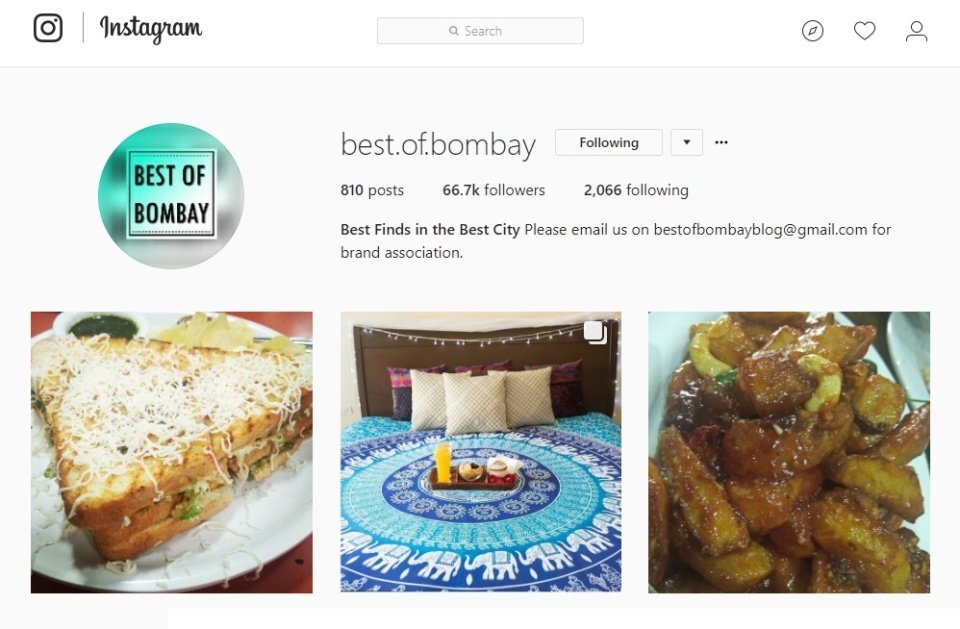 If you're ever looking for places to have street food or local cuisines, you will find yourself covered by the Best Of Bombay. From sandwiches to street Chinese and even fine dining, you will be exposed to some of the most mouth-watering dishes and places.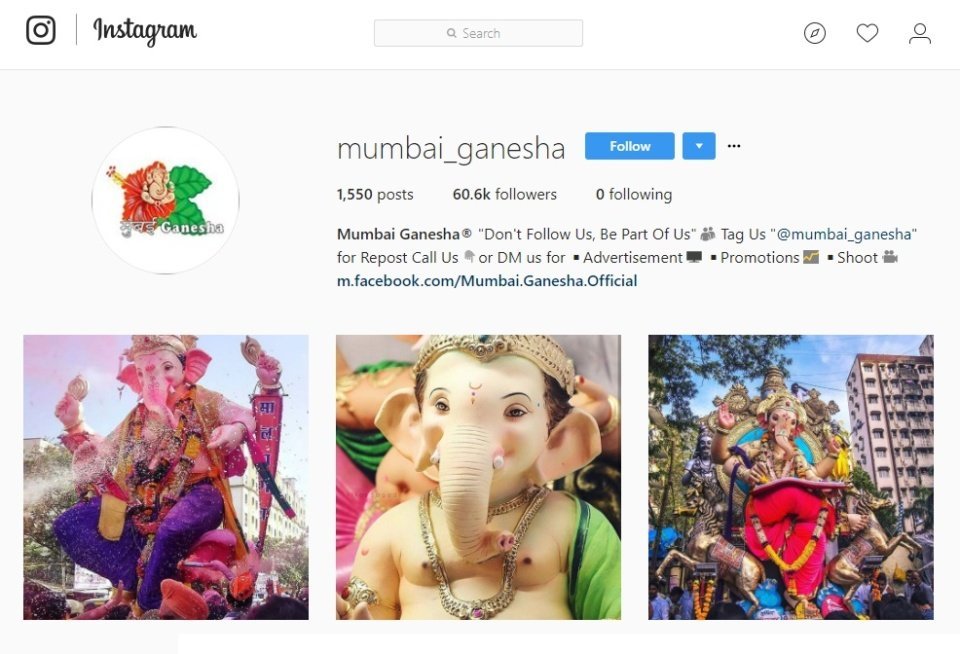 In a city dedicated to Ganesha, Mumbai Ganesha has dedicated a page for photographers around Mumbai to send in their shots of the loved God.

They are a group lead by Mayank Twiz – Mumbai Ganesh Utsav includes more than 25+ official photographer working with the page who belong to this community. They click amazing photos of Lord Ganesha & spread it to the world to show our religion, culture etc. Mumbai Ganesh Utsav is a brand that every Ganesh bhakt knows about.
If you're ever looking for a one-stop spot for food and travel to make your visual diary even more attractive, Trelling Mumbai is the place to visit. The page caters to give a view of food joints and even exquisite travel locations that might interest you or wake the wanderer in you.
Owned by Kripal Mangukia, his focus is on showcasing the lifestyle of Mumbai which ranges from food, fashion, nightlife & events etc.
In a chaotic, crowded city such as Mumbai, Mumbai Bizarre has a way of producing visual content that is calm and serene. It portraits scenic views captured by talented photographers around the city.
Owned by Kunal Tripathi, he focuses on showing his viewers the fewer known spots around a city he calls home. He views the world through a lens and gives a glance into his insights.
Fashion Instagram Accounts
An architect by profession, Santoshi has earned quite a name in the field of fashion blogging.
Her varied style and persona make her stand out from the lot and set her apart. Her sense of fashion and her content has got her to new levels of success.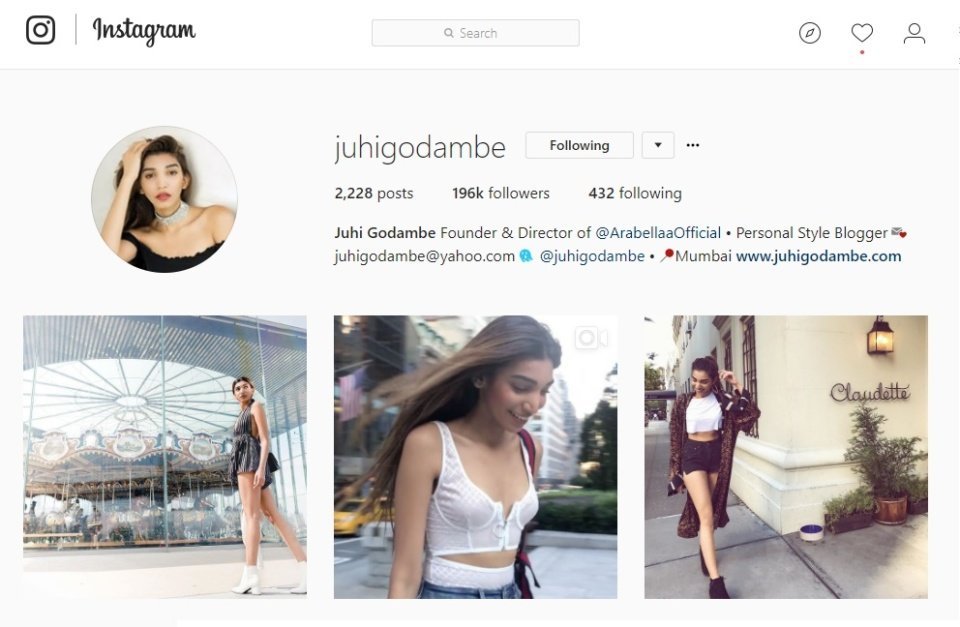 A young, enthusiastic blogger, Juhi Godambe has set her mark in the world of fashion. Taking it one step at a time, she is now the Founder and Director of ArabellaOfficial. Personal style blogger, Juhi has experimented with her style statements and reached new heights.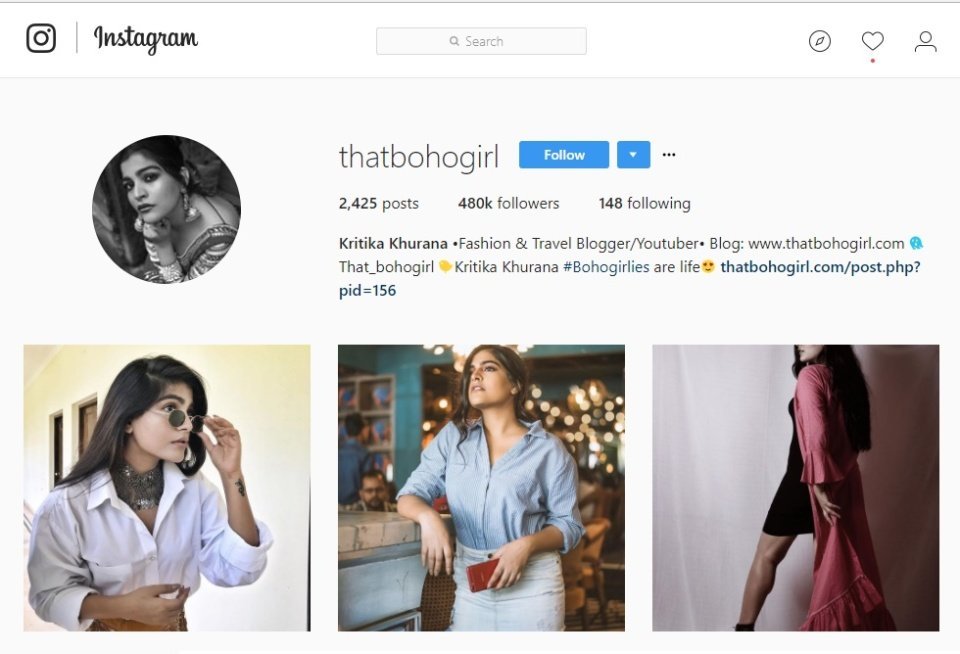 Also known as ThatBohoGirl, Kritika is well known for her boho dress sense and travel stories. Young and established are two words to describe the talented blogger, who breaks new barriers every day.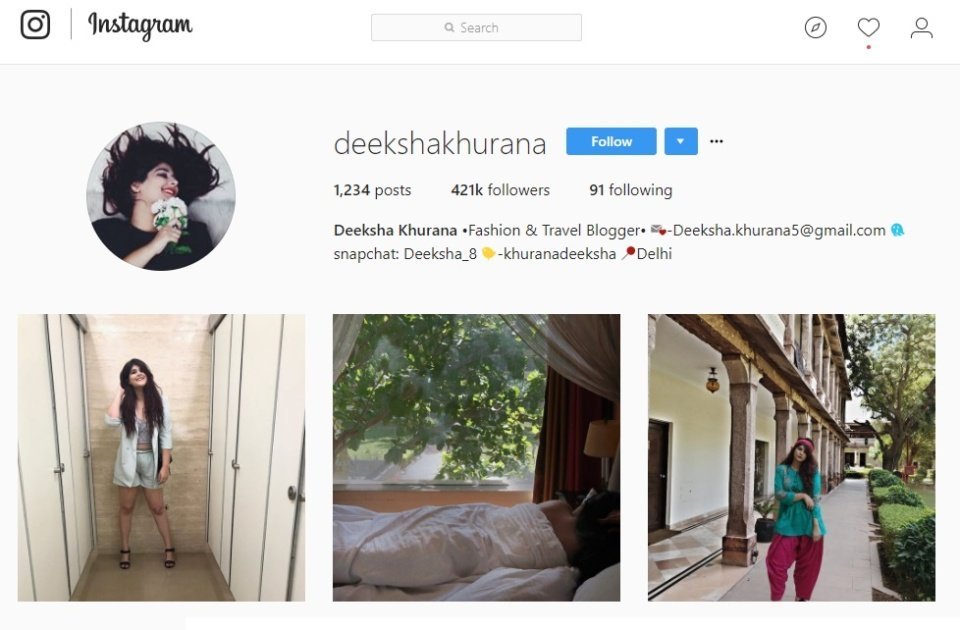 Fashion and lifestyle blogger, Deeksha has set new highs in fashion. She loves to experiment with new styles and fuses two styles together to create new and fabulous looks.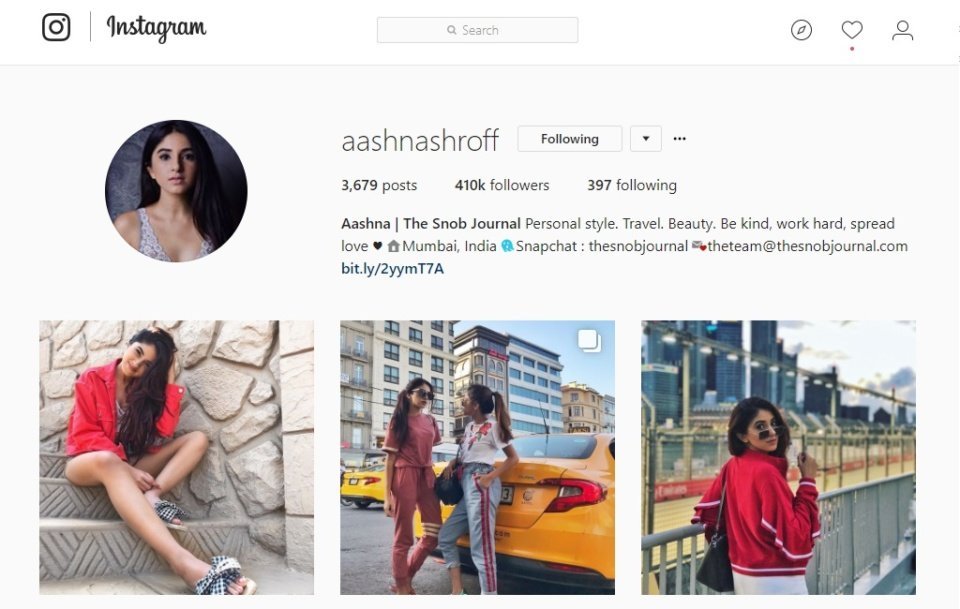 Beauty and travel blogger, Aashana Shroff strives to make the world better one step at a time. She makes video content on styling an outfit to basic tutorials as her followers request her to.
Young, blooming and talented, Meghna spreads joy and love one youtube video at a time. She loves making funny and entertaining videos to spread laughter.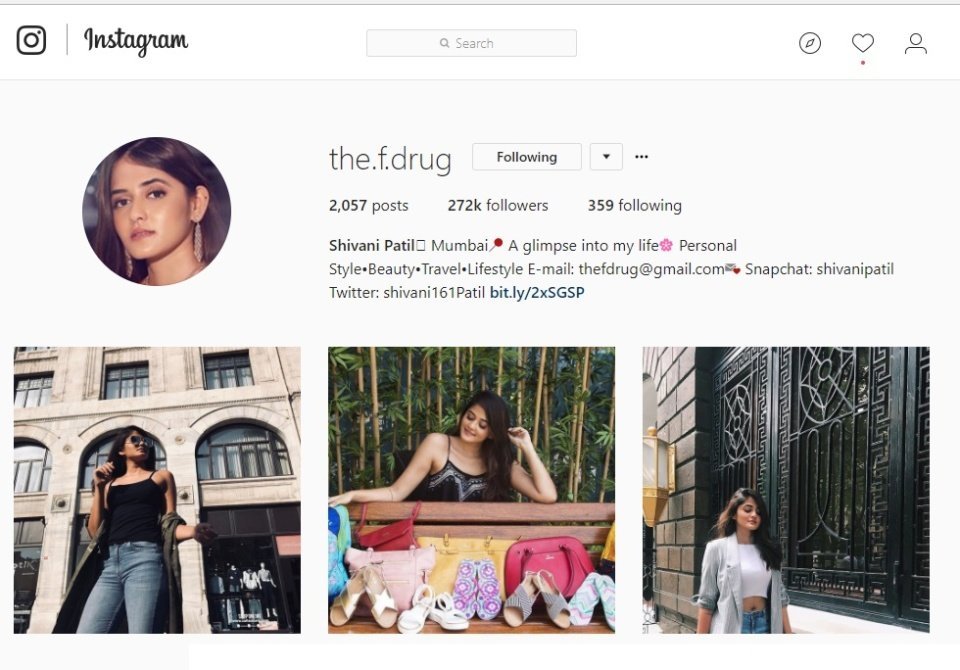 More commonly known as the F.Drug, Shivani is a lifestyle, beauty, travel, and personal blogger. She loves experimenting with style but she prefers to keep her style simple yet attractive.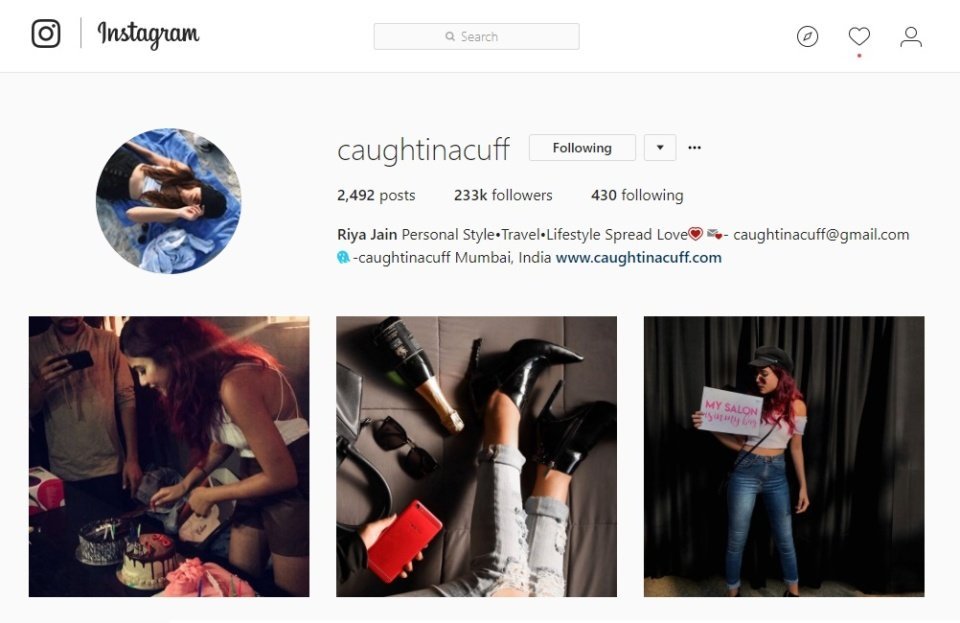 Riya /is a travel and lifestyle blogger from Mumbai. She loves to travel to places and explore while coming back to recreate looks inspired from her travels.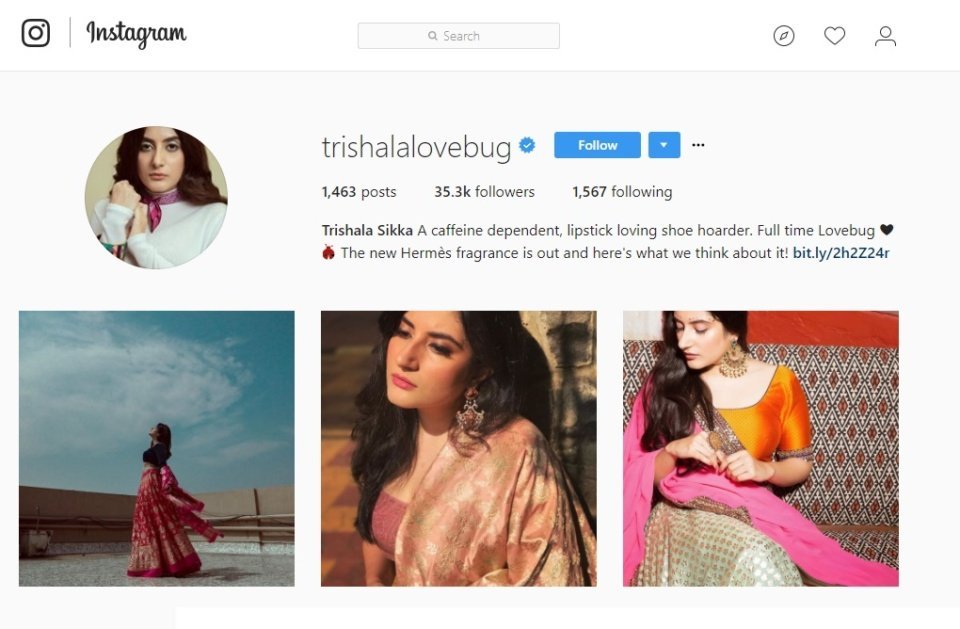 Trishala is a lifestyle blogger from Mumbai who shares her love with shoes and caffeine. She also loves experimenting with style statements and creating various makeup looks.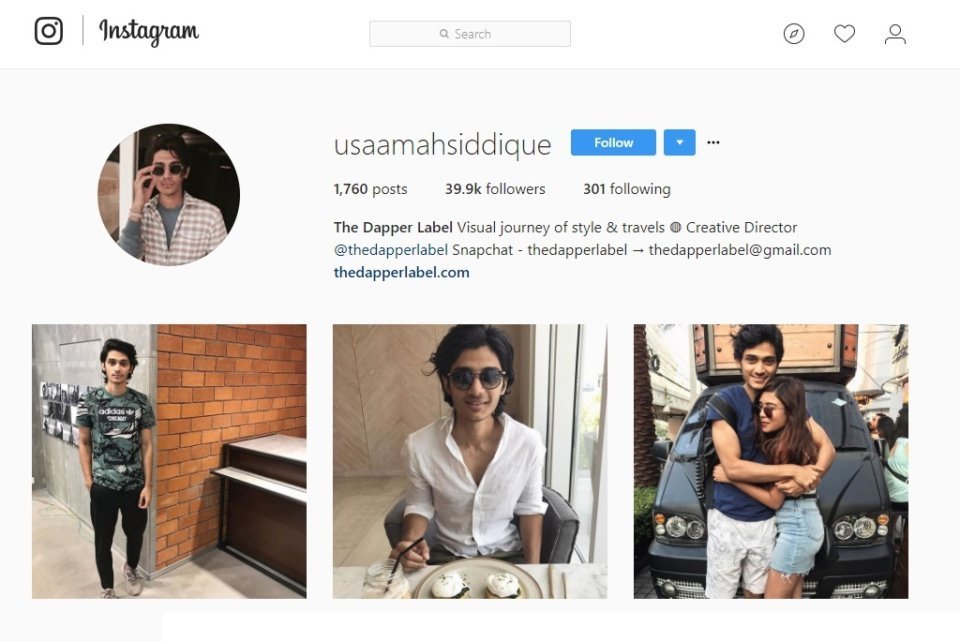 Also, know as the dapper label, this young man has reached new heights.  He has successfully discovered new ways to put men's fashion ahead in time. His unique sense of fashion and his confidence to carry himself in style places him in or most cherished male fashion bloggers.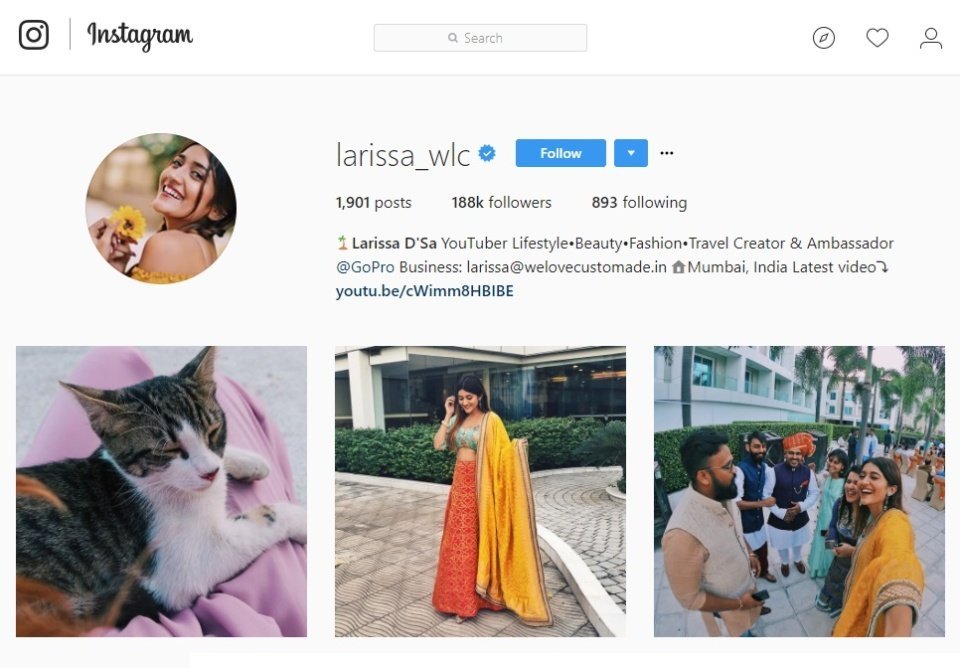 This young, enthusiastic blogger/YouTuber has made quite a name in the world of blogging and fashion. Her quirky style and fun-loving attitude make her work come to life.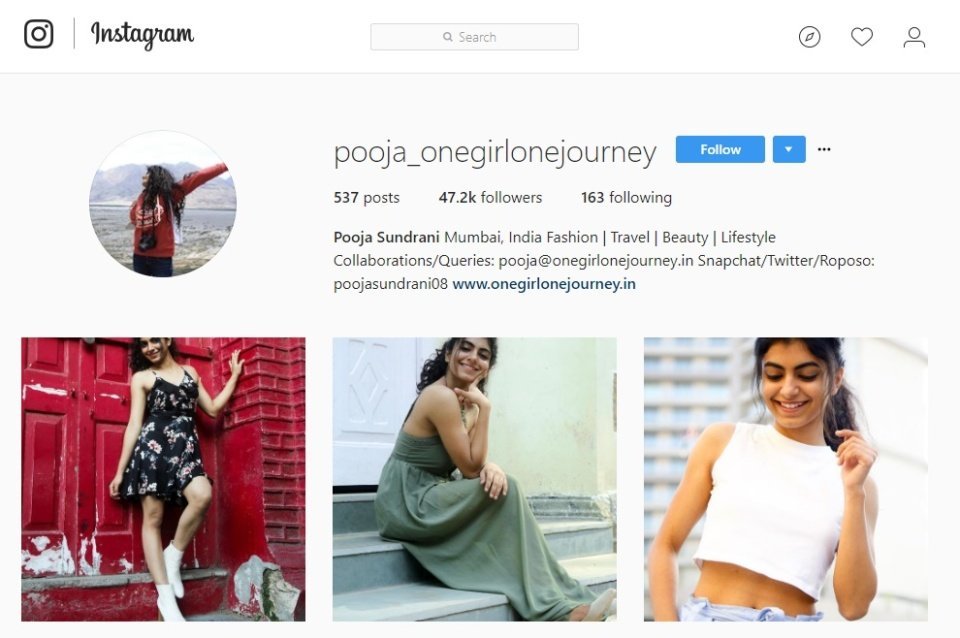 Coming from the heart of Mumbai, her style is also quite close to home yet with a touch of variedness. Fashion, travel, beauty and lifestyle blogger, Pooja has made a great contribution to the field of fashion and her followers love her work and tend to be inspired by her.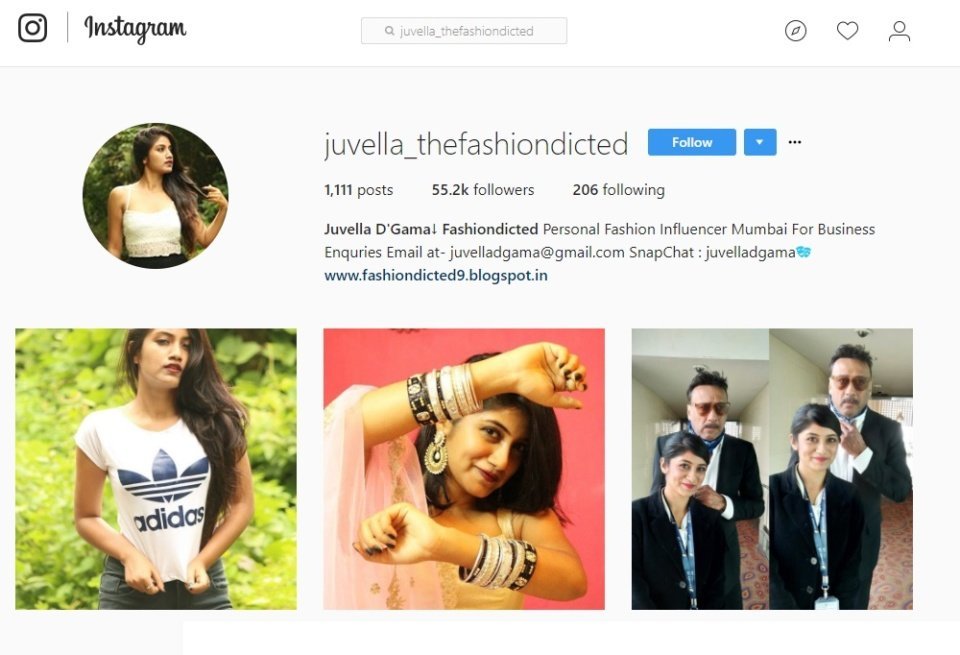 If mix and match is your style then Juvella is definitely one to follow on your Instagram. Her sense of matching colors that would never go right sets her apart from everyone. From creating looks for work to casual parties, she has her head in the game.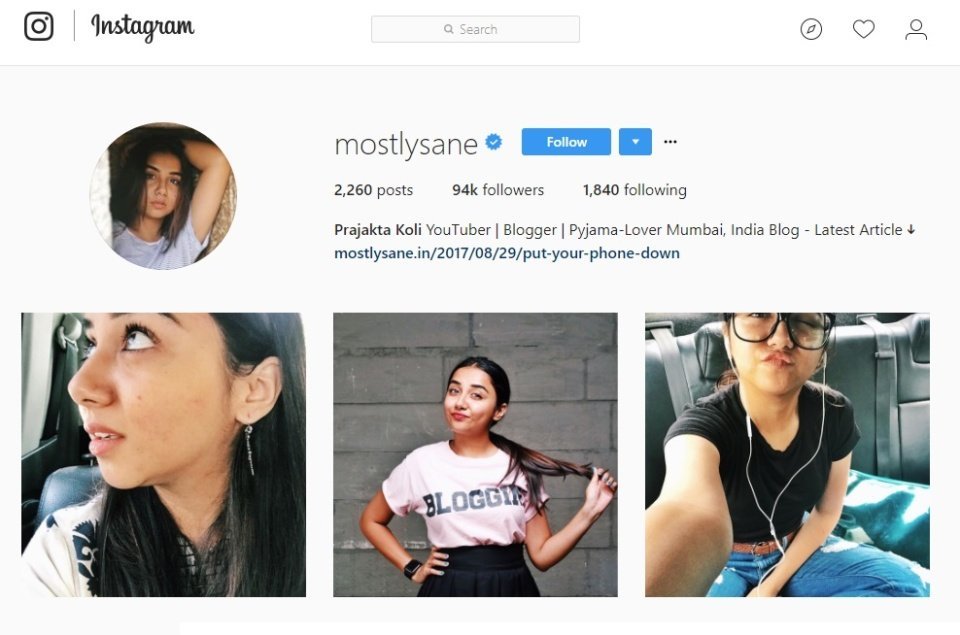 If you're looking for a Youtuber that relates to you and your first word problems, Prajakta is the go to. Her videos are loaded with laughter and yet keep in touch with the realistic side of life which makes her so relatable.
Also known as Rickshawali, the young YouTuber loves a challenge and loves to make Americans and other foreigners, try desi food and snacks. She also makes fun loving videos and her content is sure to tickle your funny bone.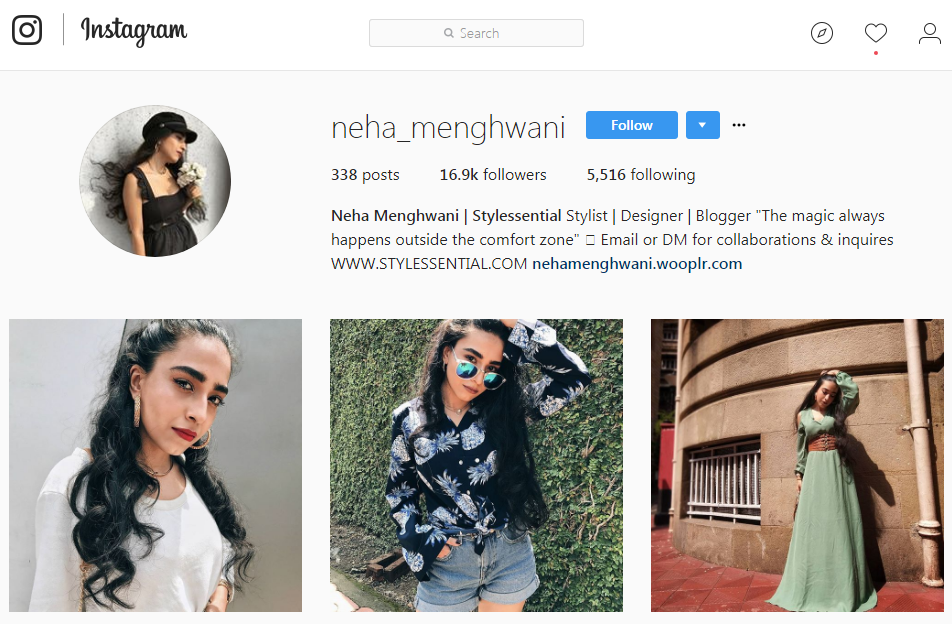 Stylist and fashion blogger, Neha loves to create new and varied styles that stand out and call for a look. Her sense of fashion and her confidence to bring something new every day has made her leave her mark in the world of fashion.
Photography Instagram Accounts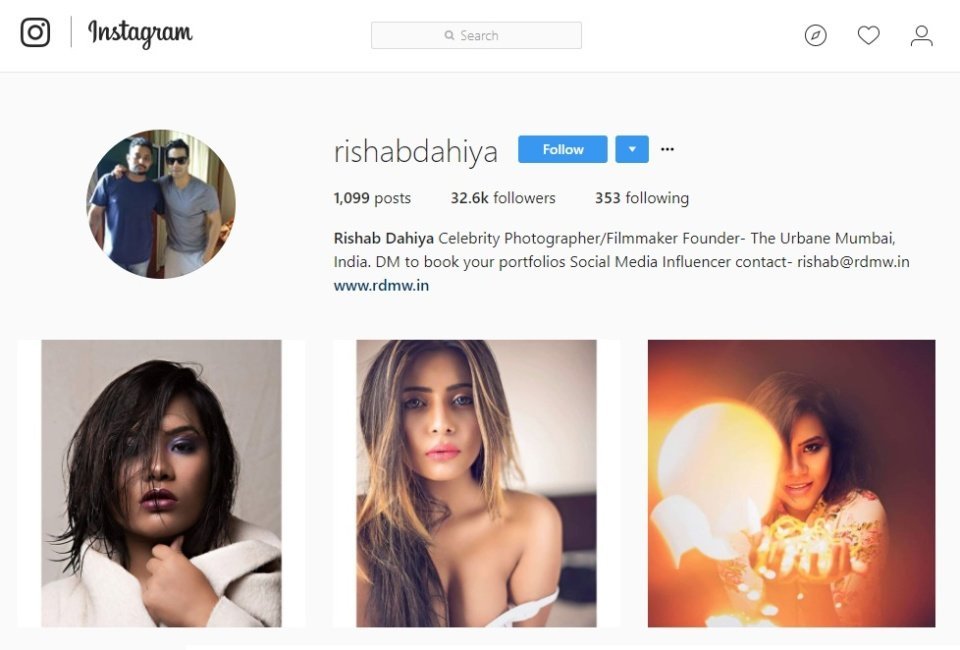 Rishabh has an eye for photography and the talent to capture raw photos. His work is exquisite and his passion for the art is beautiful.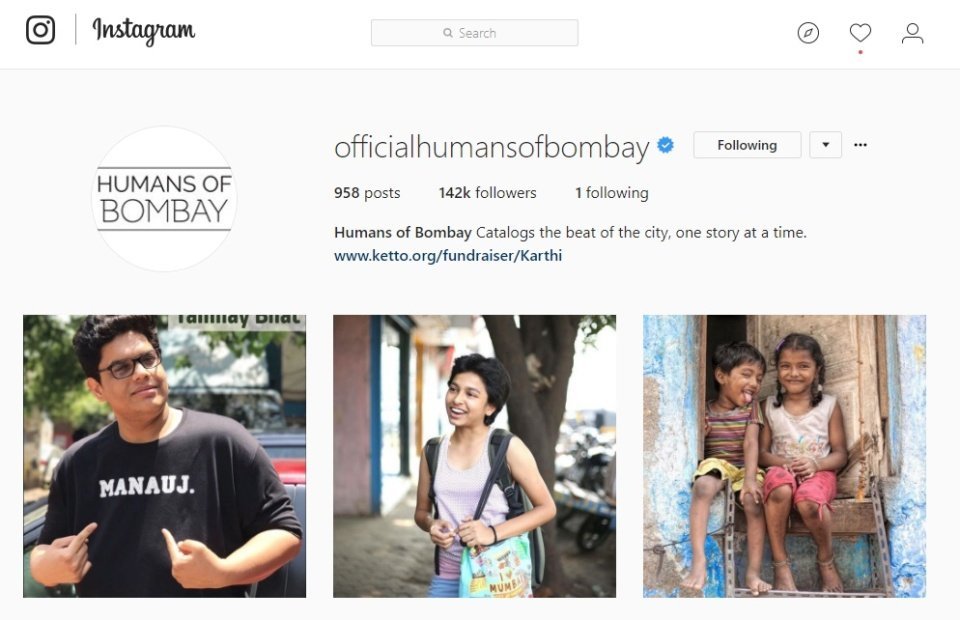 Each person has a story to tell and this page tells their story. Every unique story is posted in their own words and with a picture of the human speaking. They have found a way to reach out to people one story at a time.
Fashion photographer in the heart of Mumbai, he loves capturing raw and explicit talent in the city. He has a got a way to portray the beauty in his shot that is otherwise invisible to the naked eye.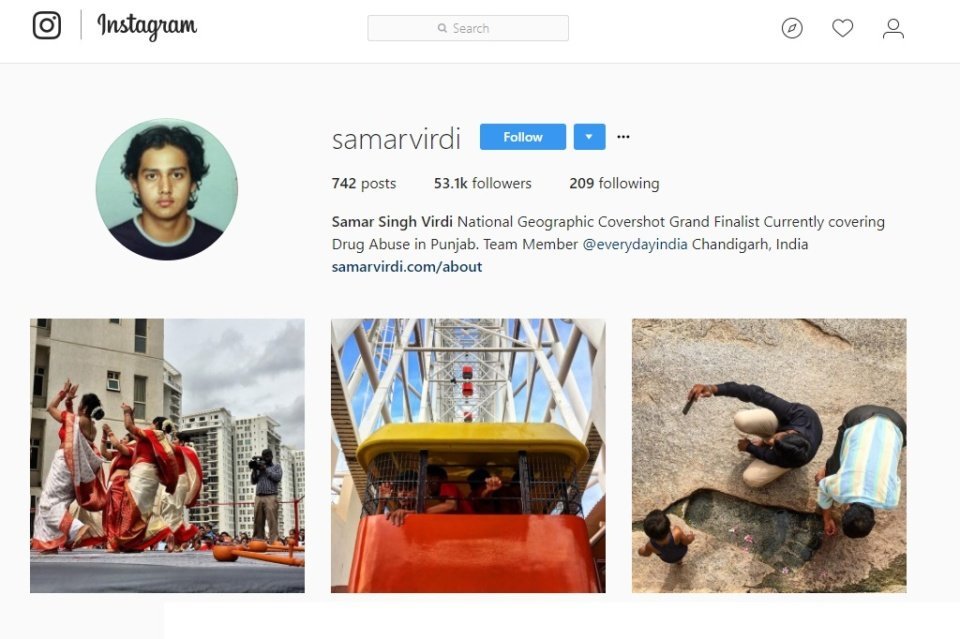 At the young age that he is, Samar has been the National Geographic Covershot Grand Finalist.
He is currently covering Drug Abuse in Punjab. His love and passion for capturing the naked parts of the streets have taken him new places and got him to explore new heights.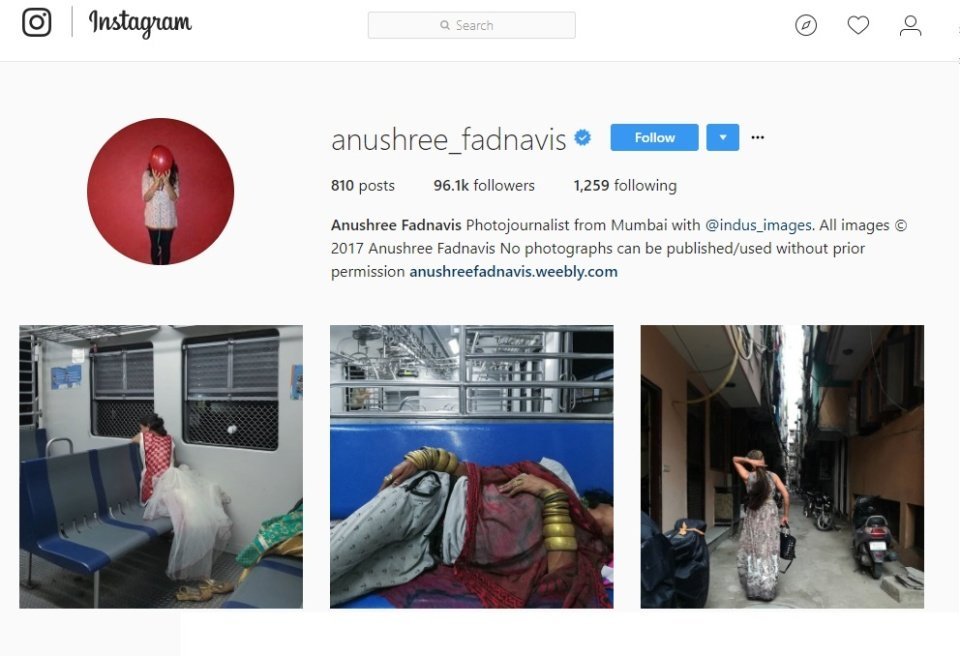 Anushree has a way to portray the raw and the unedited side of the daily life of Mumbai city.  Her content and pictures don't seem to need any written description because her pictures always tend to speak for themselves.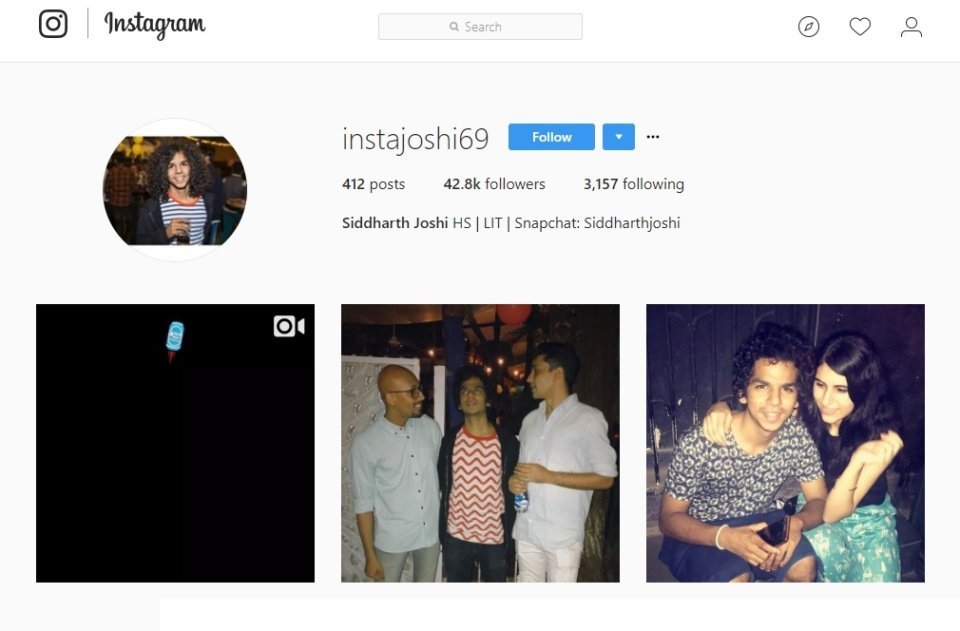 With a love for wanderlust, Siddhartha found photography as a way to get home the memories of a lifetime. He loves to capture street art and even daily life movements of everyday people. His work depicts the true sense of a wanderer and free spirit.