Janmashtami, also known as Gokulashtami, is a Hindu festival celebrated annually to celebrate the birth of Lord Krishna. The craze for Dahi Handi in Mumbai grows up every year and new records are set every year. The date varies every year because it follows the Hindu calendar and is celebrated on the Ashtami (8th Day) of Krishna Paksha. This Ashtami overlaps with August of the Gregorian calendar. 
Janmashtami is celebrated by Hindus by fasting, singing, night vigils and visiting Temples of Lord Krishna and Lord Vishnu. Of all the places where the festival is celebrated, Mumbai has its own way of celebrating the festival. The festival is more famous in Mumbai as 'Dahi Handi' where people form a human pyramid to reach or break an earthen pot that is hung high up in the air. This is based on the Hindu legend of Lord Krishna stealing butter from pots hung high and out of his reach, by using creative ways. This earned him the name of Makhan Chor. 
Some places in Mumbai that you should visit to witness this festivity are: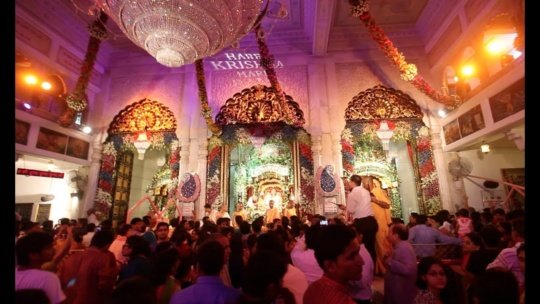 ISKCON (International Society for Krishna Consciousness) is a religious organization dedicated to Lord Krishna. What better place to celebrate Janmashtami than Lord Krishna's Temple itself? ISKCON Juhu is known for celebrating one of the largest Janmashtami celebrations of its kind since last 20 years. The temple is covered with splendid decorations on this day and it always tends to outdo itself every consecutive year. It organizes langars and the deities are decorated with special traditional outfits. People from all over India join in to experience this festival. 
You can also watch the festivities and the Abhishek Live on http://www.iskconmumbai.com/ 
You can find your way to Iskcon Juhu by following the link: https://g.page/ISKCON-Mumbai?share 
Do you feel that the ISKCON celebration didn't cheer you up enough? Then you should pay a visit to Ramakrishna Math for sure. The Janmashtami celebration is a grand event here. This is a very spiritual place and their ambiance is worth a visit. You don't want to miss the celebrations. Trust me. Head over to https://goo.gl/maps/eJ3GowKroG4yx9ka7 to experience this annual festival which is worth visiting! 
To know more, you can also visit: http://www.rkmkhar.org/ 

Also read: 40+ Best Places To Find Late Night Food In Mumbai
Coming to the Dahi Handi celebration, there are many places that organize this event with much pomp. Some of the famous places organizing the event are: 
Sankalp Pratishthan Dahi Handi (Worli)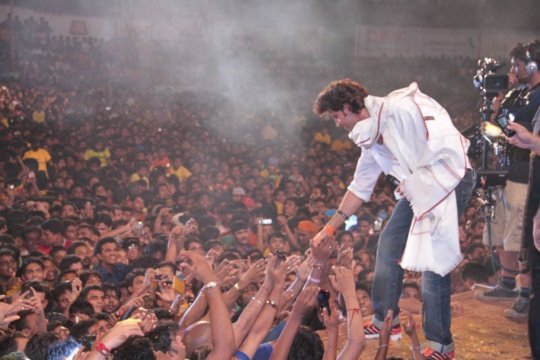 This Dahi Handi is considered to be the tallest Dahi Handi competition in Mumbai. This is organized by politician Sachin Ahir and is also famous due to many Bollywood actors paying a visit here. 
Where to Reach? Jamboree Maidan, BDD Chawls, Worli, Mumbai-400018
Still Confused? We have you covered. You can follow the link below: 
https://goo.gl/maps/xZe4aGaXfHozCUMc7
Ram Kadam Dahi Handi: (Ghatkopar)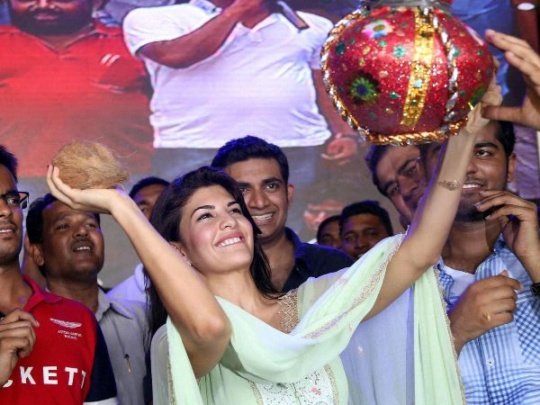 Following Sankalp Pratishthan, Ram Kadam Dahi Handi is another famous place to experience Janmashtami. This event is named after MLA Ram Kadam and this is also famous among the Bollywood actors and is attended by Govinda Pathaks from all over the city. The event has also paid out cash prizes up to Rs. 1 Crore and this is also star-studded with the likes of Shah Rukh Khan, Asha Parekh and Yukta Mookey. 
Where to reach? Sanitorium Lane, Ghatkopar
Here's a link so that you don't get lost in the crowd: 
https://goo.gl/maps/REFbGgfKirnRgJM1A

Sangharsh Pratishthan Dahi Handi (Thane)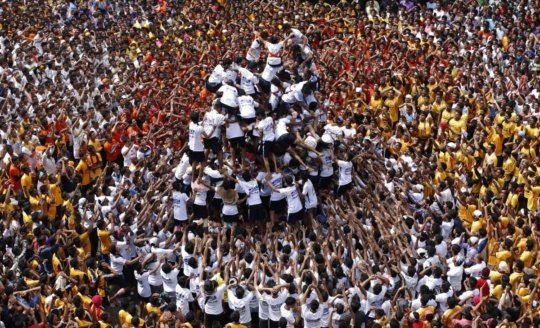 This Dahi Handi is considered to be the richest Dahi Handi celebration in Mumbai. The prize money is massive and can even go up to several Lakhs of Rupees. Many a time, gold is added to the prize to incentivize people. This ambiance is boosted by the music and the enthusiasm of people. Now you know where to head if you want to experience the best Dahi Handi! The prize money in 2014 was Rs. 51 Lakhs and in the preceding year, it was Rs. 1.11 Crore!
You can visit Sangarsh, Open House Panchpakahadi, Thane to be a part of this celebration. 
Here's a headstart from our side: 
https://goo.gl/maps/XvCXaKQsHEjdxtTY7
Shramik Sarvajanik Utsav Mandal
(Kharghar)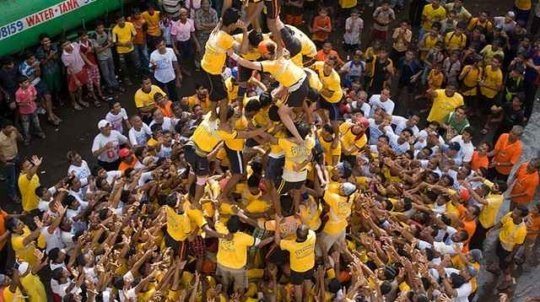 This is another major Handi organized in the city and is very famous for its handi. The specialty of this handi is that it is quite difficult to break and many a time, teams have to head home empty-handed as they were unable to break the Handi! This is the one to head if you are up for a challenge!
Want to prove that you love challenges? Visit Shramik Mitra Mandal, Kharghar, Navi Mumbai 410210
We won't let you get lost anywhere. Follow our friend Google to make sure you take up the challenge in time: https://goo.gl/maps/ukGKFBjTCeMe9K9s9