Lil flea in Mumbai 2020 will mark 6th Anniversary of this beautiful flea market. The city of Mumbai is full of vibrant minds and creative souls, who never stop coming up with new ideas to make things more interesting. Be it the way one works, to the way one has fun; Mumbai knows how to have fun. One such innovative and interesting idea is that of the Lil Flea 2020, which is organised in this city. Lil Flea Mumbai is not like any other ordinary market. It is full of quirky ideas, interesting products, delicious food and heartwarming entertainment. It is not just a market, but a festival in itself.
Here, several well-known brands and people from various parts of the country set up their stalls. These stalls have a variety of items right from jewellery to antiques, clothes to bags and so on. One can find a huge variety of quirky and interesting items to shop over here. Not only this, there are several food stalls selling delicacies and desserts as well.
Another attraction in Lil Flea, is the entertaining elements present here. Right from music, to movies, there is something for everyone.
Memories From 2019: The Lil Flea Mumbai
History of Lil Flea Mumbai
This awe-inspiring market idea is the brainchild of two creative minds – Priyanka Punjabi and Alankar Jain. They began organising the Lil Flea market in Mumbai in 2014 to bring together the communities of fashion, music, food, and so on.
All the stalls put up in this market, are personally curated by Priyanka. She efficiently designs the plans for the setting up of stalls and brings in ideas to make them more interesting than they already are. Alankar handles the other aspect covering the finances and business. He makes sure that the event is profitable.
Lil Flea is for everybody!
Yes, unlike ordinary markets, it does not believe in serving a bunch of people. It has something for everybody. TLF is for the people who love to shop, to eat, to watch movies, to experience band performances, to read and so on. It is for all the art enthusiasts, for the poetry lovers, for the aesthetic lovers, for the music enthusiasts, for the shopping addicts, for the foodies, phew! The list is endless.
What To Expect In The Lil Flea Mumbai 2020 Edition
DATES: MAR 27th – 29th & APR 3rd – 5th 2020

1 – Stalls for the shopper in you
Lil Flea is is a paradise for all shopaholics and window shoppers. Pick from some of the most quirky and chic products. You will find a plethora of branded and hand-crafted gifting ideas here. Choose from countless apparels, bags, shoes, jewellery, home decór, styling, pop up arts, and so on. There will be around 100 brands participating for the first time. And the most exciting part is that you will find 140 outstation brands. You won't find their products in Mumbai otherwise.
2 – Heaven for book-readers
Leave a book and take another at The Lil Book Exchange! Take a like-minded person with you or find someone who has the same taste for books as you. Discuss a book, weave a story over a cup of coffee or a pitcher of beer.
3 – Festival of experimental and Fusion Foods
Ditch all your diets and roll up your sleeves. The Lil Flea will be home to about 70 food and dessert brands and microbreweries too. Don't miss out on those home chefs and bakers selling amazing stuff. P.s. come empty stomach!
4 – Festival of Music
Lil Flea market is here to give you some heartfelt beats and soulful music on all the days of the festival. Every evening, Lil Flea Mumbai has a new band or artist to entertain and make your evenings musical. The list includes Boombay Djembe Folas, Nikhil D'souza, Fanculos, Fiddler's Green, and many more interesting artistes.
5 – Enjoyyy at the Festival Bar
If you love beer, or wine, or cocktails, you can go park your yourself at The Lil Flea's festival bar. With 7 of the cities best micro-breweries plus classy cocktails and wines, sangrias and slushies
6 – Movie under the stars!
How about watching a movie right under the twinkling stars and the black blanket of the sky? Mesmerising, eh? From classics to cult films, TLF will be screening all-time favourites that you've been waiting to watch or re-watch. Make your pick today!
Address: The Lil Flea Mumbai
JioWorld Garden, BKC, Mumbai
Plot No: RG1A, G Block BKC, Bandra East, Mumbai, Maharashtra 400051
7 – Contribution for nature – One Lil Tree.
An initiative to go green and give back to nature. Collect free seeds at One Lil Tree. Learn some organic gardening. or adopt a plant, give them a name and take them home to do your bit to improve the air you breathe.
8 – Happy place for Art-lovers and artists alike
One can find several works of artists from around the world at the Lil Flea Mumbai. There is live art, art for a cause, and a collaborative art section here. It tries to bring in the artists who are unique and believe in spreading their thoughts through the art.
9 – Loads, Loads of Games
Re-live your childhood or just bring the child in you out. TLF has countless carnival, board, and adult games for you. Hula hoops, giant Jenga, trampolines, dart games, are just a few of them. Not to forget, they also have a range of drinking games such as beer pong, battle shots and more to keep your buzz going.
These are just some of the interesting things that one can find at The Lil Flea.
If you are looking for a different and not-so-ordinary way of spending your weekend, Lil Flea is the place for you!
Movie Line-up at Lil Flea Mumbai 2020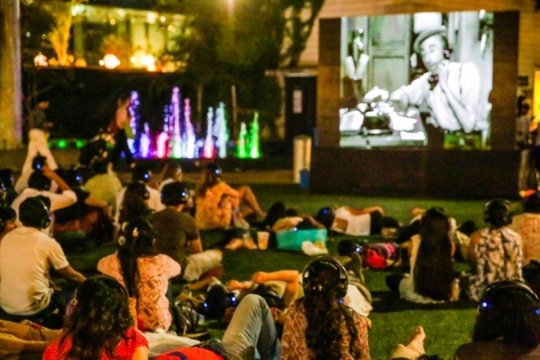 Brands entry at Lil Flea Mumbai 2020
7 Shopping brand You Will Love it at Lil Flea Mumbai 2020

1. The Sufi Studio
If opportunity doesn't knock, build the door, in the same way, The Sufi Studio is an eco-friendly fashion brand crafting its products on the lines of sustainability. We work with crafts, sustainable practices, and small businesses.Buy eco-friendly fashion brands crafting from The Sufi Studio online or check out new trending designs at Lil Flea 2020 event.
2. Rias Jaipur
Rias Jaipur is a Jaipur based modern brand. Dress, tops, shirts, pants, skirts, etc. RIAS JAIPUR, "An initiative to stay the hand-crafted techniques alive." A young article of clothing brand primarily based in Jaipur, Rias is over simply a label.
3. SUTA
SUTA Works with weavers from all over India and creates handcrafted and handwoven products.Suta is the maker of simple and humble designs of saree, blouses, dresses, kurtas, lehengas, bags and much more with handmade fabrics to make our souls sing with joy.
4. Mama India clothing
Mama India clothing is an Ethical Artisanal Fashion brands. They handpick raw materials from all over India.Mama India Clothing is having a natural ability to love for traveling and art, and the desire to use the impressive display of impressions.
5. Chambray & Co
Chambray & Co is making detail embroidery handcrafted with modern silhouette fashion.We are a fashion and style house empowering community artisans. we tend to create things that matter and weave joy into each story. during a world wherever fashion and style are usually seen as excess, chambray & Co. could be proof that vogue and property will exist.
6. The Glu Affair
TGA – could be a theme wear whole that makes covering Playlists (theme-based capsule collections) to fight the everyday fashion fatigue. We tend to build a product that is well thought of, original AF, and punctiliously factory-made with the most effective fabrics from around the world.Buy Cool Tshirts from The Glu Affair or Lil Flea 2020 event.
8.Inaaya & Co.
Launched in the spring of 2016, Inaaya and Co. is the brainchild of designer Ethical fashion and growing with their artists is the philosophy of the brand while their love for pastels is our signature style! Inaaya & Co is the invention brought to life with each capsule collection. Dresses to tassel earrings all-new design by Inaaya & Co.
6 Jewelry brand You Will Love it at Lil Flea Mumbai 2020

1. Shop Lune
Shop Lune perceive that you love to wear your jewelry on days ending with "Y", as jewelry is like a new dress, it quite simply makes you marvelous – shop your jewelry with Shop Lune exclusively. Exploring & wearing shop Luna functional & effortless style. Shop jewellery every day from Shop Lune.
2. Zohra Jewellery
Life is perfect and balanced and so is our jewelry, it's like chocolate, there's always room for more, visit us and find your ideal handcrafted art jewelry.Buy all types of jewellery products from Zohra Jewellery. earrings, neckless, rings, bangles, etc.
3. Madiha Jaipur
Madiha Jaipur this brand is specialized in wood and semi jewels jewellery. The name 'Madiha' in Arabic means 'Praiseworthy', & as the name suggests, they live by the belief- "Every Woman Is Praiseworthy". Their main product line is the wood and semi-precious stone jewelry, making USP, as the designs & out of the box pieces are an ode to gemstones.
4. Pipa Bella
Hey Fashionistas! All your jewelry desires. on-line jewelry shopping can now be simple, be it memorizing a collection of earrings for a special day or shopping for a present, visit us and shop with us.Buy stylish collection from Lil flea mumbai 2020 event or Pipa Bella Jewellery online store. Get the latest fashion trending jewellery from Pipa Bella.
5. Orbit Jewellery
Fine and rich gold coming straight from New Zealand goldfields to aggrandize your shopping experience, responsibly mined under the supervision of the Departement, Orbit jewelry is your ideal jewelry shopping place. Check out the unique handmade and custom made rings and neckless from Orbit diamond Jewellery at Lil flea Mumbai 2020.
6. Bhavya Ramesh
Jewelry is beyond just ornamentation, it's symbolic and a form of expression, Bhavya Ramesh is idiosyncratic adept individual believing to make your jewelry expectations to meet your perfect satisfaction. Ware Trendy antique handcrafted jewellery from Bhavya Ramesh.
50 + Testy Food Brands

1 Coppetto – Artisanal Ice-creams
Coppetto – Artisanal Ice-creams are 100% vegetarian & no artificial flavors. Traditional Italian Gelato & make with passion. The art of being happy lies in the power of extracting happiness from buying icy icy ice-cream from Coppetto – the artisanal skills to serve you the best luscious ice-cream!
2. Patisserie
Patisserie India Delivered french handcrafted desserts all over the Mumbai. All you need is love and moreish dessert at Patisserie – a cloud kitchen that delivers handcrafted French desserts across Mumbai to overindulge your taste buds, giving you a gastronomic experience at Lil Flea Mumbai. You can test it is at Lil Flea Mumbai 2020 event.
3. Banana Bread
Delish Banana Bread at Lil Flea Mumbai 2020! What's with Banana Bread? Banana bread is a type of bread that is made with mashed fully ripe bananas added with love and toothsome taste, tempted to grab it, eat it and love it!
4. Your Sugar Story
Love is experienced when we make cookies chocolates, cakes, cupcakes, brownies, cake jars good food to make your mood.
Catering to wedding invites, baby showers/announcements, festive & corp hampers. You name it and we do it. Let your search end here at 'Your Sugar Factory'.Your Sugar Story is specialized in cookies, brownies, cupcakes, cakes, etc.
5. Bait al baklava
You definitely wanna try it! Bait al Baklava has come up with something unique and extremely delicious – Baklava is a dessert originating in the Middle East made of filo pastry filled with chopped nuts and soaked in honey.
6. Bomberry
Wanna have Mahableshwar notable food, however, don't have any plan to travel a good distance to Mahableshwar… No problem!! currently you'll be able to have of these in the city itself at "BOMBERRY". The Cheese Corn Pattice, Cheese Corn Warp & it's notable Strawberry/Mulberry Cream & a lot of to own. The place is a bit little however fine maintained. Nice Exterior & Interior. Must visit!
7. Pear & Walnut Patisserie
Pear, feta, and walnut seem like a bit more of a left-field choice for a tart topping, right? The resulting taste is salty, sweet, crunchy, juicy, and tangy all at the same time. What more could you want to get you right in the mood at Lil Flea Mumbai 2020.
8. Acai Tribe
Acai Tribe is made from organic pulp. It is nutritionally complete and balanced, respecting the original purity of the fruit. With a smooth and homogeneous texture and a very pleasant taste. The future is challenging, but consolidated, in the certainty that the best is yet to come.
& Many More…..
Artist line Up Lil Flea Mumbai 2020

Activities and Workshop Lil Flea Mumbai 2020
Go Lil Green
1.Plant 101 Workshop 
2.Paint Your Pot
3. Pottery
4. Microgreens Short 
5. Kitchen Gardening Workshop
6. Home Composting Workshop
Live Art
1. Live Landscape 
2. Eco Painting 
3. Block Painting 
4. Vegetable Dyeing
VR
1. 4D Live Painting 
2. B Cricket
3. Katana Sword Fight